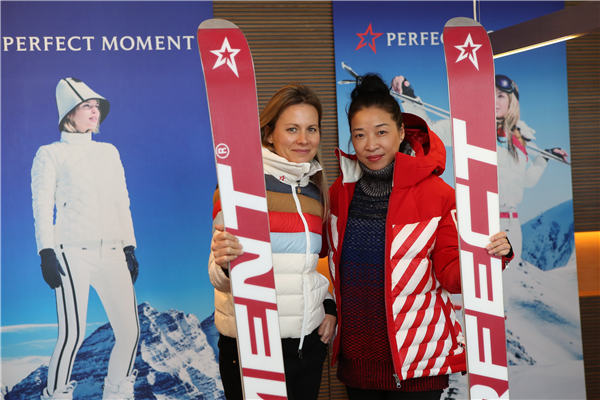 Gottschalk and Helen Lee showcase skiboards from Perfect Moment. Photos provided to China Daily
As Beijing looks ahead to the Winter Olympics in 2022, global brands are already gearing up to make Chinese winter sports fans look trendy. Sun Yuanqing reports.
With Beijing having bagged the rights to host the Winter Olympics in 2022, skiwear makers have begun looking at the Chinese market with increasing interest.
Among them is Perfect Moment, a luxury ski and surf brand from France, which showcased its new collection in Beijing recently.
A professional skiwear brand at its core, it is luring skiers in China with a touch of high fashion.
"It (the brand) has always been for very professional skiers. But its concept is to put fashion and function together," says Jane Gottschalk, brand director.
The 2015 fall/winter collection features jackets, sweaters and ski pants in bright, clashing colors. High-tech fabrics from Japan and Switzerland are complemented with form-fitting design and functional details like protective elbow patches.
Pushing boundaries on traditional ski pants, the collection offers every shape-from cargoes and skinnies to flares. They are fit both for the slopes and the streets.
Polar bears and stars are signature elements in the retro, bold designs.
The brand has Chinese designer Helen Lee at its creative helm.
Lee, best known for her eponymous fashion brand, is herself adept at the sport.