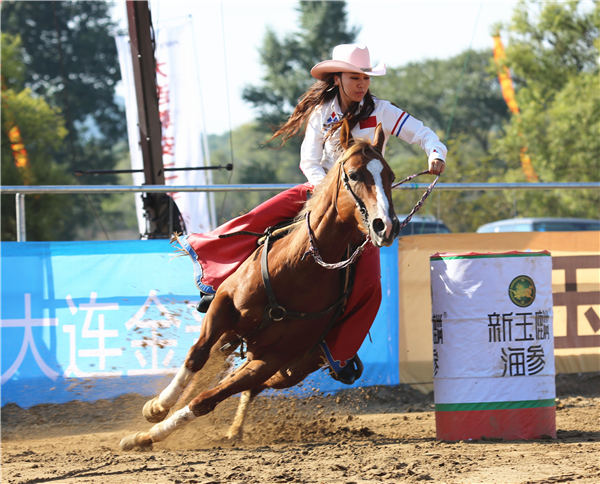 Zhang Jing competes in a barrel racing event. She says she loves the sport because of the cowboy attire and culture. Provided to China Daily
Horse-riding fans in China are increasingly taking to barrel racing, attracted mainly because of its cool cowboy outfits. Yang Feiyue reports.
Horse riders who prefer cowboy outfits instead of the formality, pomp and circumstance of classic equestrian events now have an option. They can try barrel racing.
The sport, which entered China in 2008, is becoming increasingly popular.
All it needs is a small arena, with three barrels, typically gasoline drums placed in a triangle. Racers need to get around them in a certain pattern in the fastest time possible.
"Barrel racing needs just a few things to start and is easy for newbies," says Chu Wen, owner of Beijing-based Yihe Farm, which focuses on the sport here.
He says that the sport, which originated in the western part of the United States, allows riders to express their individuality.
Many Chinese riders choose the sport for its cool cowboy outfits, he says.
Zhang Jing, 35, has eight cowboy shirts and four jeans, as well as other gear in her closet, exclusively for barrel racing. "I'm attracted to the cowboy attire and culture," she says.
The gear cost her approximately 20,000 yuan ($3,100).
"I saw the panache of two female riders doing barrel racing a year ago, and it was cool and filled with passion," says Zhang, a private business executive in Beijing.
"If they could do it, I should too," she says.
Compared with classic equestrian show jumping, dressage and cross-country events, Zhang feels barrel racing is more suitable for people like her.