Yoga in tai chi land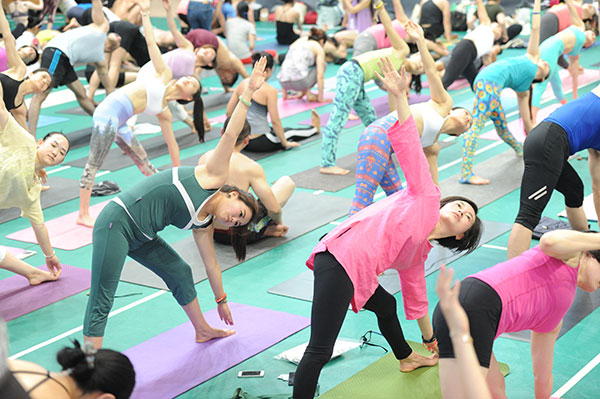 More than 1,000 yoga fans from home and abroad gather for lessons from leading practitioners in Dujiangyan, Sichuan province, during the India-China international yoga festival running from June 17-21. [Photo/China Daily]
Hundreds visit Southwest China to learn the ancient Indian regimen, Xu Lin reports in Chengdu.
As Zubin Zarthoshtimanesh, a yoga guru, demonstrated postures at a high school stadium in Dujiangyan city, Sichuan province, some 200 students sat on colorful mats watching him closely.
It was part of the first India-China international yoga festival in the provincial capital, Chengdu, in Southwest China, where more than 1,000 fans from home and abroad gathered for lessons from 20 leading practitioners of the ancient Indian regimen, from June 17-21.
Yoga is to India what perhaps tai chi is to China.
Many countries other than India and China, also held the first World Yoga Day on June 21, after the United Nations last year agreed to Indian Prime Minister Narendra Modi's suggestion that a special day be marked in the year for the global practice of the stress-busting regimen, which is already a multibillion dollar industry in the United States.
Modi said in the speech: "Yoga is an invaluable gift of India's ancient tradition. ... It is not about exercise but to discover the sense of oneness with yourself, the world and nature."
Zarthoshtimanesh, who runs his own yoga center, Iyengar Yogabhyasa, in the Indian financial capital of Mumbai, says: "Chinese students are very respectful. For me, all students are the same no matter what their race is and where they come from. The most important thing is to remove mental walls."
Zarthoshtimanesh learned yoga from the late Yogacharya Iyengar and traveled with the master to different countries.
Consulate General of India in southern China's Guangzhou city organized the Chengdu festival.