Elderly sold on online shopping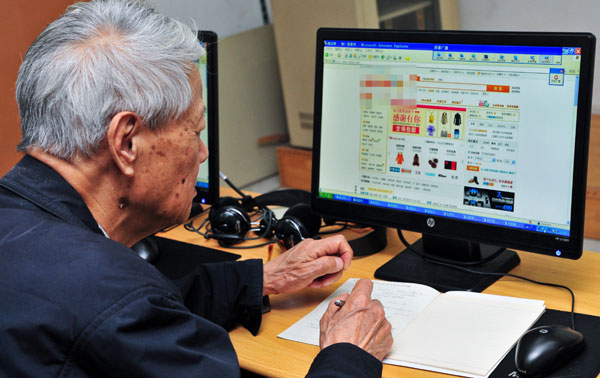 Online shopping has changed Chinese people's shopping habits, including those middle-aged and senior consumers. [Photo by Zhang Chaoqun / Xinhua]
But Chinese e-commerce websites fail to pay more attention to older consumers, Du Xiaoying reports
They may be farmers, doctors, bankers, teachers, but once their hair has gone grey 20 years from now, their common denominator will be "consumer" in the world's largest and fastest growing consumption market.
In China, people's consumption habits are changing rapidly because of the Internet. There's been a perception that younger consumers have been the driving force of online buying. That may not be the case.
According to 2012's annual statement from Alipay, the payment arm of China's biggest e-commerce company Alibaba Group, the average expenditure of Alipay users born prior to the 1960s was 31,000 yuan ($4,988) in 2012, much higher than14,000yuan ($2,253) of those who were born after the 1980s.
The statement shows that online shopping has become a key part of people's daily consumption, for both young and old.
"Our users' online spending is growing every year," said Zhu Jian of the public relations department at Alipay. "We think that online consumption is becoming more and more important."
"Besides shopping, more people tend to pay bills such as water bill, electricity bill, and credit card repayment online," Zhu added," more than 10million Alipay users paid bills on our platform in 2012."
The middle-aged and senior consumers are not only witnesses of the consumption revolution, but also participants.
Liu Chen, 56, general manager of an IT company in Beijing, said that he always pays his telephone bill online, and his online expenditure in 2014 was over 50,000 yuan, about half of the total annual expenditure. Clothes, electrical appliances, kid's snacks are the main items he purchases online.
Liu's shopping strategy is to find something good online first, then go to shops to check it out, and finally buy it online because "the price is cheaper", Liu said.
As quality concerns him, Liu only buys items from the Internet that come with a warranty or that are of good quality, such as Samsung cameras, Apple Inc., products and brand retailers' clothes.
Another middle-aged interviewee follows a similar shopping pattern to Liu's.
HeYing, 58, are tired doctor living in Beijing, is also accustomed to paying telephone bills online because of convenience. Low prices draw her to shop online.
Like many Chinese middle-and-old aged, He was not familiar with the online shopping process and worried about the paying safety, so she asked her daughter for help.