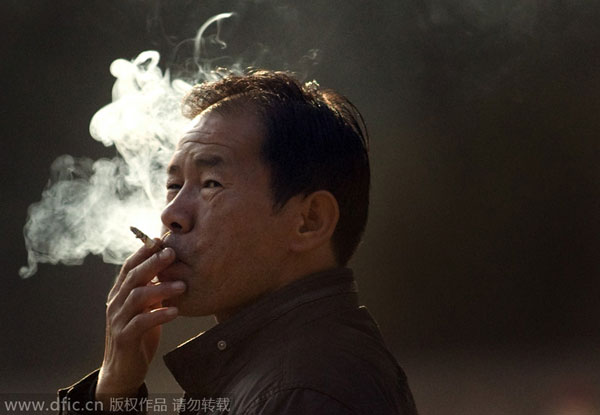 A Chinese man smokes a cigarette outside a shopping center in Beijing. [Photo/IC]
Nearly 1.1 billion Chinese people are either smoking or being exposed to secondhand smoke, an official said Saturday.
About 356 million people above the age of 15 are smokers, while another 738 are passively smoking, said Jiang Yuan, director of Tobacco Control Office of the Chinese Center for Disease Control and Prevention.
Smoking-caused cancers and cardiovascular and respiratory diseases have imposed economic burden of more than 223.7 billion yuan (35.9 billion U.S. dollars) for people at or above the age of 35, she said.
"China has to adopt comprehensive, long-term and effective tobacco-control measures," she said.
China is mulling a ban on all forms of tobacco advertising, sponsorship and promotion of tobacco products, according to a draft regulation published on the legislative affairs office of the State Council website in November.
The draft bans smoking in all kinds of indoor public places and outdoor space in kindergartens, schools, colleges, women and children's hospitals as well as in fitness venues.
Also in November, the legislature of Beijing Municipality adopted an anti-smoking legislation to ban smoking in all indoor public places, workplaces and public transport vehicles. It is scheduled to become effective on June 1 next year.