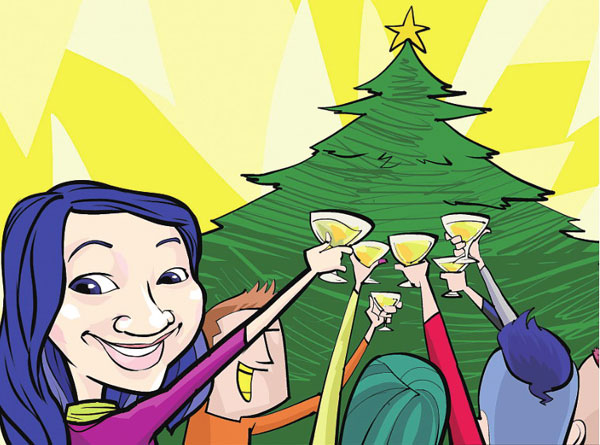 [Photo/Shanghai Star]
Judith Huang is an editor for China Daily in Beijing. She is from Singapore and is looking forward to her first Christmas in China.
In the Christmas story, when baby Jesus is born in Bethlehem, wise men from the East travel many miles to visit him, following a special star in the sky. They came from different lands bearing precious gifts of gold, frankincense and myrrh for the baby, in order to honor his royal status even though he is born in the humblest of circumstances, in a manger, because there is no room at the inn for his traveling parents.
This will be my first Christmas in China, and though it is not my first Christmas away from home, it is lonely to be away from my family. So it is comforting, in a way, to think that at the first Christmas, everyone in the story – Joseph, Mary, the wise men, and especially Jesus - was all a long way away from home, too, but that they still managed to form a happy family together.
This Christmas I am looking forward to being with the relatives I have living in China, who I mostly got to know better for the first time this year after moving to China. Foremost is a cousin who has really made China a home away from home for me, and she is cooking a wonderful Christmas feast, with turkey and homemade cranberry sauce, roast goose and pumpkin pie and sherry trifle and she will be gathering friends and family in Beijing – people coming from all over the world to spend the festive season together. She has been such a blessing to me this year and it is wonderful to discover the things you have in common with relatives who have been apart for most of your life but which circumstances bring together. There will be carols and storytelling and a Christmas tree to decorate and, particularly with Beijing's cold weather, it will definitely be feeling like Christmas.
Christmas is a time when we give the gift of our presence to each other, the same way that the presence of Jesus was a gift to the world from God. For me, living in China has brought so many new people into my life, because this country has a way of bringing people from all over the world to be a part of it. One thing that has been especially amazing to me is just how diverse the church community is here in China, with people from all corners of the world meeting together and sharing in their faith. I've met people from Africa, South America, North America, Europe, and all over Asia here in my church, and we will all get to celebrate together, not coming from the East like the wise men in the Christmas story, but being in the East together.
Just as the Christmas story brought people like the wise men from the ends of the earth to Bethlehem for the birth of baby Jesus, who himself traveled from heaven to earth to be with humanity, my first Christmas in China will be about bringing many people from all over the world and all walks of life to remember that first Christmas together.
So here's a toast to my first Christmas in China. I can't wait!