Halloween haunts China as popularity grows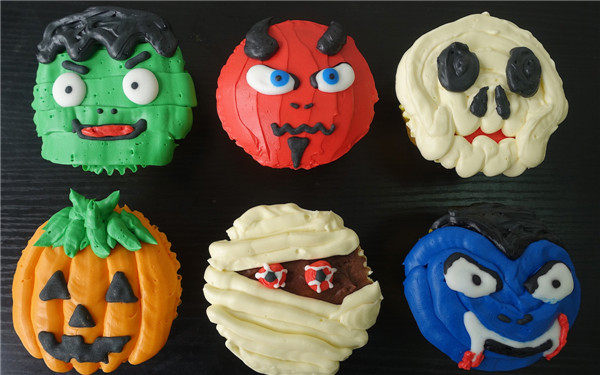 Cupcakes put their scariest faces forward this week at bakeries in Beijing. Photos provided to China Daily
Ghosts and goblins are preparing to prowl Beijing's streets as Halloween's popularity grows in China. Mike Peters samples the tricks and treats available in the capital.
Immense brown spiders squat on orange cupcakes in a bakery window. Australian student Brian Wilson, 10, arrives at his international school with blood streaming out of a gash on his face. Skulls, some of them broken, leer menacingly from shop windows and billboard advertisements.
None of this weirdness around Beijing causes much alarm. The spider, the bloody gash and the skulls are all fakes, artful creations for a Western holiday that many in China have cheerfully imported.
For some, in fact, Halloween is the most wonderful time of the year.
"It's definitely like Christmas for me," says Nina Griffee, a British makeup and body-painting artist who runs branches of her art studio FaceSlap in Beijing, Hong Kong and Macao.
"Except we don't get any presents."
She and her team get a lot of business, though, as the artists roam between Halloween events, trendy bars and private house parties that started with celebrations last weekend.
"It's just super busy," she says at her Hong Kong studio.