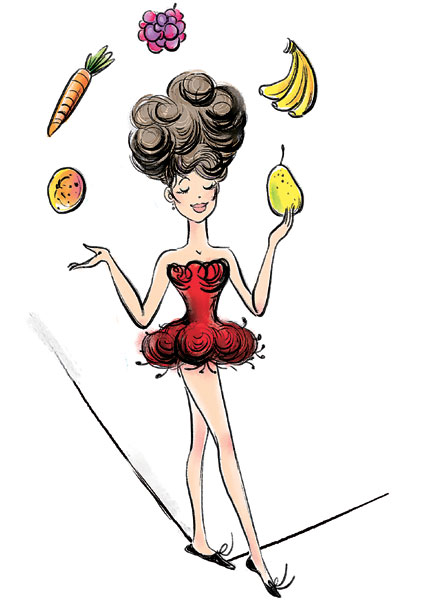 It is better to eat food than play with high-risk diets. [Photo provided to shanghai star]
It's the dieting fad that is sweeping the world, and encourages fasting for two days of the week. But does it work? Wu Ni reports.
People are starving themselves to lose weight, with a dieting trend known as the "fast diet" growing in popularity.
The method is also known as the 5:2 diet, and consists of eating normally for five days of a week and cutting calories to about 25 percent of normal intake during other two days. Men consume just 600 calories on the two fast days, while women are limited to 500 calories.
Notably, the two fasting days should not be back-to-back. The dieter should have at least one normal eating day in between.
In the best-selling book The Fast Diet: Lose Weight, Stay Healthy, and Live Longer with the Simple Secret of Intermittent Fasting by Dr. Michael Mosley and Mimi Spencer, the two authors claim that the 5:2 diet not only promotes weight loss, but also benefits health, offering protection from disease, improved cognitive function and increased lifespan.
The diet originated in the United Kingdom and became popular in the United States. Now, it is gaining popularity among the Chinese middle-class.
Zhong Minghui, who is 178 cm tall and used to weigh 100 kilograms, finds fasting effective in weight control. He works in the sales department of a trade company and used to drink and eat a lot after work. After sticking to the fasting diet for five months, he managed to lose about 20 kilograms.
"Actually I did not exactly rely on the 5:2 diet to lose weight. My fasting was more extreme. I almost completely cut off my supper everyday and only ate some fruit. I also use an app to calculate the calories in the food I eat and was cautious of not eating any high-calorie food. I did about an hour's aerobic exercise everyday. Fasting is definitely effective, but I think sports also help," he says.
"I do not really believe that fasting is the magical cure-all, but my high blood sugar has improved," he adds.
The US Academy of Nutrition and Dietetics says that although there is evidence that intermittent fasting diets may help prevent chronic disease, more research is needed.
Han Ting, a clinic nutritionist of Shanghai Tenth People's Hospital, says that people who suffer diabetes or eating disorders, pregnant women, kids, teens and frail seniors should not try fasting. She recommends a regular low-calorie diet, which is safer and less risky for health.
When on a fasting diet, on the weekly fasting days, Han recommends low-fat, low-sugar, low-protein food, such as vegetables, yogurt, non-fat milk, shellfish and fruits with high dietary fiber.