Runners sprint past Beijing's iconic structures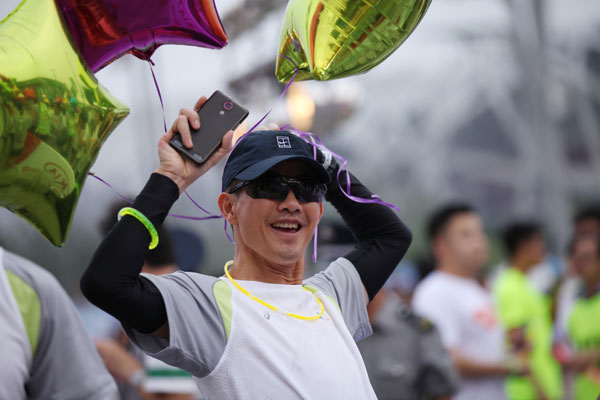 The name of the event literally means light, and the organizers are aiming to highlight passion for exercise as an important legacy of the 2008 Beijing Olympics.[Photo by Cheng Liang/Asianewsphoto]
The first Guangming Neon Fun Run and Revelry has just been held on Friday night. Runners gathered together to race past Beijing's famous landmarks such as the National Stadium and the Beijing National Aquatics Center.
Thousands of runners and spectators gathered at the Olympic park in Beijing. This is the first time such an event has been held here. The track is 5 kilometers long, and runners see it as a good opportunity to switch gears.
Rock bands were also invited to perform and add to the electric atmosphere. The iconic sites by the track include modern landmarks such as the National Stadium, but also ancient ones such as the Beiding Empress Temple.
The event is organized by the Guangming daily, an influential newspaper in China targeting intellectuals. The name literally means light, and the organizers are aiming to highlight passion for exercise as an important legacy of the 2008 Beijing Olympics.
"We are in touch with alot of our readers on the internet, but its great to meet some of them face to face through this event. We are here to celebrate the 6th anniversary of the Beijing Olympics and to show our support for Beijing's bid for the 2022 winter Olympics," said Lu Xiangao, deputy editor of Guangming Daily.
So it seems that there's no limit to Beijing's passion for sports.
Visitors continue to linger long after the race is over. Perhaps it is this passion that continues to fuel China's love for sports.