Getting the most joy out of an expo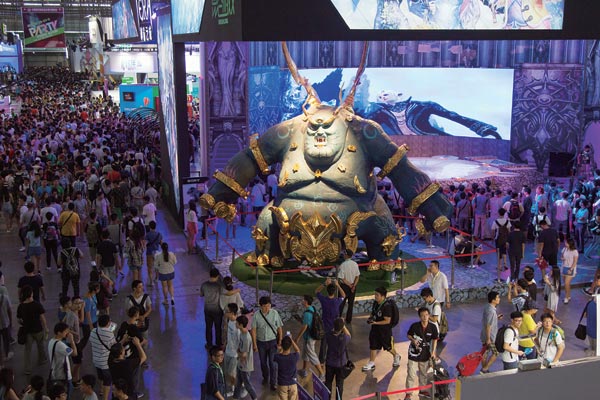 Out of this world: A giant demon from the MMORPG Tera guards the Kunlun booth at Hall N5 of China Joy. Gao Erqiang / Shanghai Star
The Shanghai New International Exhibition Center in Pudong district is packed to the rafters every year around this time. The reason for the descending hordes is none other than the yearly China Digital Entertainment Expo, more commonly known as China Joy.
With a name like China Joy, it's easy to associate it with digital and entertainment fiestas like the Electronic Entertainment Expo in Los Angeles or Comic Con in San Diego. But that would be a mistake.
That's not to say that China Joy's isn't fun. China Joy really is a spectacle.
It spans four days and seven hangar-sized halls. First time attendee Spencer Christensen says he was simply overwhelmed.
"I had spoken with several friends who had been to China Joy in the past, so I felt I had a pretty good sense of what to expect," says Christensen.
"But even so, I think the one thing that just struck me hard was how huge it is. Building after building after building, packed to overflowing with gaming fans and companies."
Christensen, a business development manager for Glow Digital Media, says he was impressed by both the scale and professionalism that went into putting together China Joy. But there was just one thing — he felt that the convention format of the show didn't really help games and products stand out.
Likewise, Shanghai-based journalist Erik Crouch was also amazed by the size of China Joy.
"China Joy was my first video game expo, and I didn't necessarily know what to expect," says Crouch. "I knew it had 'booth babes' and that it would be crowded.
"I think a lot of the spectacle had very little to do with video games themselves, like the China Unicom go-go dancers. What do they have to do with video games?" Crouch asks.
He confesses that he probably isn't part of the demographic China Joy is aimed at, and observes that crowd control at China Joy was a major issue.