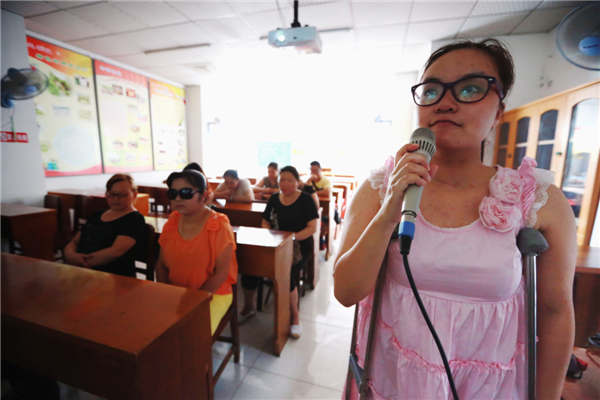 Providing live commentary so visually impaired people can "see" movies has helped Du Chengcheng emerge from her own dark hours. Kong Xuan / For China Daily
"Recounting movies to people who are visually impaired serves to remind me of my worth, and that - despite the fact that I am disabled - I can still contribute to society," says Du Chengcheng.
The 26-year-old, who has only one leg, describes what is happening on the screen at a cinema established for the visually impaired in Wuhan, the capital of Hubei province. For the past three years, she says she has described 100 movies for nearly 5,000 blind people and written commentaries on more than 30 movies.
The cinema was founded in the Jiangjiadun community in 2001. Du works at its community work office. The Love of the Hawthorn Tree was the first movie Du had ever "described". After downloading the movie, she watched it 10 times. She even "watched" it with her eyes closed so she could better understand how her audience would experience it without her commentary. Then she spent all seven days of the National Day holiday writing a 10,000 word draft of her commentary.
"I watched the movie again and again and thought about scenes all the time. At night I jumped out of bed and wrote down the words that crossed my mind."
After the lights came on after the screening, she saw that many in the audience were crying, which Du took pride in, as she knew they would have been unable to experience the film so deeply without her commentary.