Former narc officer fights drug war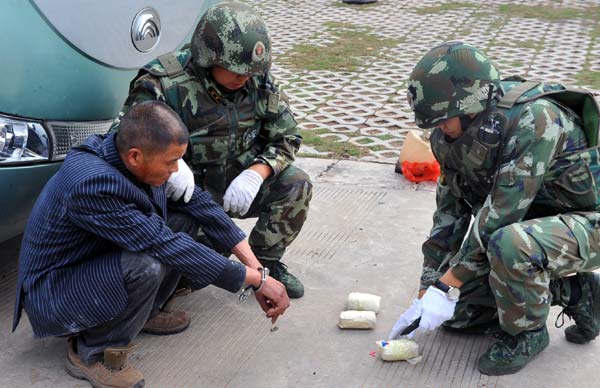 Armed police capture a suspect and seize narcotics in Xishuangbanna, Yunnan province.
A dedicated former narcotics officer has turned online educator, warning netizens about the dangers of drugs, the damaging effects of which he has seen firsthand. Wong Lok Yee from China Features reports.
Tian Hao was 16 when he first saw the body of a drug addict.
He had lied about his age to enlist in the army. Walking past a detention center in a military base in Yunnan province, he saw the body being carried out: shriveled, with no skin on the face, the skull and teeth exposed and the hands and feet the color of dust.
"At that moment, my revulsion for drugs crystallized," says Tian.
Tian served in the narcotics division of the Armed Police Forces at the border between Yunnan and Myanmar from 2006 to 2010. Four years after leaving the squad, he still recalls the twisted faces of drug addicts.
He is now a commentator on the Internet forum called "zhihu", where he has more than 70,000 followers.
He answers questions such as: "What should I do if my roommate takes drugs?" and "How do the police catch drug smugglers?"
Tian relates stories about drug-smuggling investigations without revealing real names of people involved and details of the operations or methods.
"So little information about drugs on the Internet is reliable," Tian says. "People don't like to read essays so I started chatting online.
"When I see comments that I disagree with, I speak out."
Tian had a difficult childhood in a small village in Chuzhou city, in East China's Anhui province. His father drank alcohol and beat his mother and died when Tian was 9. His mother put all her faith in her son, but he hated school.