Journeyman's stories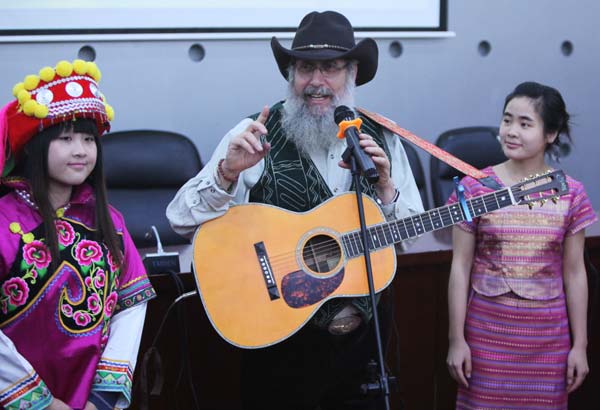 Mark Levine has played guitar for 50 years but only started writing songs when he came to China in 2005. Gao Peng / for China Daily
Liking it all is part of the trip, as one songwriter-turned-author tells Mike Peters.
Bright-eyed and bushy-bearded, Mark Levine attracts some attention on the street as he travels around China. "Sometimes I will be walking down the street," says the professor of English, "and suddenly people I don't know will call out 'Make Liwen'." That's because the baseball caps he likes to wear sport his name in Chinese characters. After being introduced to a professional calligrapher who adorned the red cap he was wearing with big black strokes cut from cotton cloth, Levine sat down for a brief lesson in her art.
"I took notes," he says, "and within a few days I had taken her explanation and put it into a song called Five Styles of Calligraphy."
Since he came to China eight years ago, Levine has been inspired to write about 60 songs.
"I played guitar for 50 years, but I rarely composed songs," he says.
He was a teacher and volunteer labor organizer in California before he came to eastern China's Jiangsu province in 2005 to teach English. As he learned to eat chicken feet and spicy hotpot, visited countryside homes and celebrated at weddings and explored former premier Zhou Enlai's hometown in Huai'an, he found himself writing long letters about his experiences. People who read them said he ought to write a book. "But that seemed kind of hilarious," Levine says. "I thought, 'Who needs another American coming over to write about his impressions of China?'"
But soon, "sort of accidentally", he found he was writing songs and sharing them as he traveled to more than 20 provinces and taught at five universities and 10 language-learning centers.
And the songs that grew out of those experiences have taken him from local clubs and an audience of 50 to festival performances in front of 50,000. There have also been TV appearances, including getting to the final round of China Central Television's popular performance show Avenue of Stars.
"After so many experiences over nearly nine years," he says, "I finally thought they were worth sharing in a book."
The result is Stories of My Chinese Journey, which sometimes reads like a memoir and sometimes like a chatty letter to a friend yet to be made.