The tangled web of cultural niceties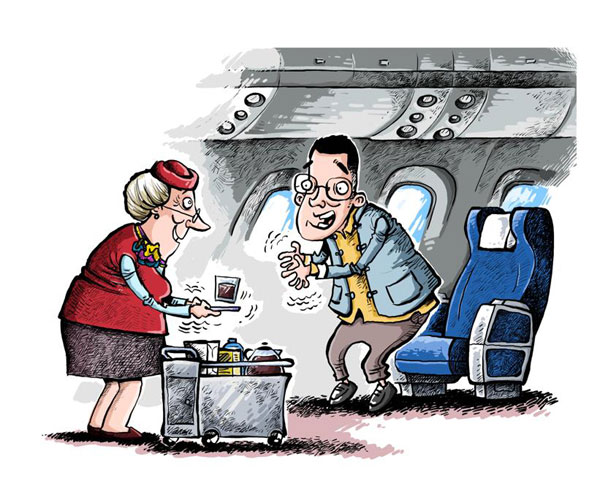 Every culture has rules - some implicit - about the roles of gender and age. When they collide, predicaments arise.
A few years ago when I was traveling across the Pacific Ocean on a United Airlines flight, I was thrown into the perfect storm of cultural collisions. It was nothing melodramatic, but rather, quiet and imperturbable in a Chekhovian kind of way.
As the aircraft reached a certain height, flight attendants started to serve drinks and then the meal. The one who came my way was an elderly lady. I would say she was past the age of 65, but I could be wrong.
She had the feeble gait that I would associate with someone in retirement, to put it mildly. As soon as she started pouring a drink for me, I had to suppress my urge to jump up and say "Please, you sit down and I'll pour YOU a drink!"
Did I mention she was Asian? In China, children would definitely have addressed her as "granny". It took the Chinese many decades to adjust to the Western way of deliberately calling someone, especially a woman, by a younger term.
There were so many layers of cultural conflicts that I can only untangle them one at a time.
The first is ageism. I've often heard Chinese passengers complain about the age of flight attendants on non-Asian airlines. In China, they are invariably young and often good-looking. But most in such service on Western airlines are middle-aged these days. If a Chinese businessman has flown domestically for years and then, for the first time, gets on a US airline, he would be in for a big shock.
From a pragmatic point of view, I don't think the Chinese practice is sustainable. You can recruit youngsters when you first start, but you cannot fire all of them when they reach, say, 40. Some of them may be reshuffled to positions in administration, but surely not all of them. I'm still wondering where all those "stewardesses" go when they are no longer in the bloom of youth.