New push to take care of stray pets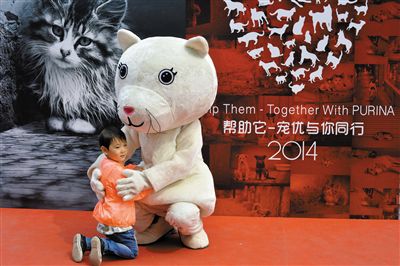 The pet welfare promotion event attracts children at Beijing's Shimao International Shopping Center. [Photo/Agencies]
A giant dog and a cat flanked the sidewalk of Beijing's Shimao International Shopping Center on Saturday afternoon. The enormous stuffed animals were not an invasion but an effort to raise awareness about stray animals.
Sponsored by Purina Petcare, in conjunction with the Chinese animal-rescue group the Beijing Loving Animals Foundation, the event is the first of many to promote stray pet welfare across China.
According to a video provided by the BLAF, there are about 6 million stray cats and dogs in China. Purina's digital manager Wang Yue says the goal of Saturday's event in Beijing was to raise awareness of the issues of stray pets rather than push for adoptions.
"Within this project we haven't put the focus on actual adoption. Adoption is great but the true focus is to change people's perceptions and get attention on the root problem," says Wang. "People think stray animals are dirty or disgusting, so at this point the real focus should be education."
One of the leading pet food companies in the United States, Purina was purchased by Swiss-based Nestle in 2001. Purina is best known for pet food brands Dog Chow and Fancy Feast. While it is a leader in the industry in the West, Wang says the company is facing more than just competition from other companies, but rather issues with the way people treat pets in China.
"In the West people treat their animals like their friends and family," says Wang, "whereas here the pets are treated as animals, so they tend to get fed whatever is handy instead of something that is correct for their diet."