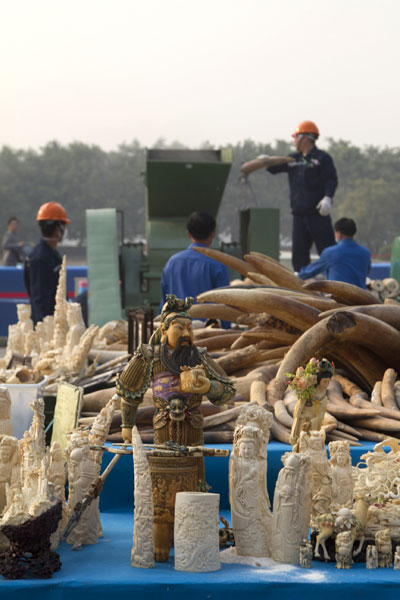 The central government destroyed 6.1 metric tons of confiscated ivory in Dongguan, Guangdong province on Jan 6. It's the country's first public destruction of ivory, showing the government's determination to combat the illegal trade in wildlife. Yang Bo / for China Daily
National political advisors have urged the government to take immediate measures to curtail the consumption and demand of endangered wildlife products.
Yuan Xikun, a member of the National Committee of the Chinese People's Political Consultative Conference, said he had submitted a proposal to the advisory body in early March, demanding that civil servants be prohibited from giving and receiving ivory.
"Building on the joint decree by the general offices of the Communist Party of China Central Committee and the State Council to ban dishes containing shark fin, birds' nests and protected wild animals at official receptions and banquets, in an effort to root out corruption and condemn decadent consumption, we urge a special decree prohibiting the lavish taking and giving of parts and products from endangered species by government officials and civil servants," Yuan's proposal reads.
As a sculptor, environmentalist and United Nations Environment Programme ambassador, Yuan's proposal expressed his special interest in one area in particular.
"Recall an ivory carving China presented to the UN and displayed at the United Nations headquarters in New York, and replace it with a sculpture that demonstrates China's commitment to the protection of endangered wildlife and the world's natural heritage."
In addition to calling for the prohibition of government officials giving or receiving gifts made from endangered species, Yuan's proposal urges maintaining and enforcing an administrative ban on the auction of endangered species, suggesting instead the destruction of the entire stockpile of confiscated elephant ivory and the ultimate phasing out of the domestic ivory trade.
Yuan's proposal follows a similar petition to the CPPCC by former basketball superstar Yao Ming who has asked for a ban on ivory sales in China.