China, Singapore ink horse-racing deal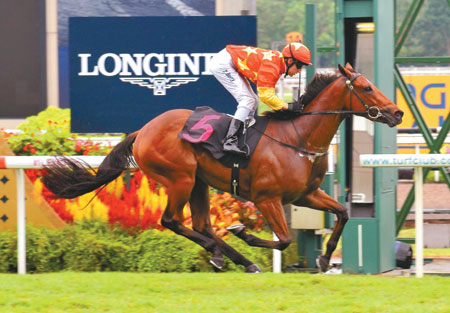 A thoroughbred from China Horse Club participates in a race in Singapore on March 2. Provided to China Daily
The Chinese mainland will take its first step toward hosting a thoroughbred race overseas via closer cooperation with Singapore, thanks to an ambitious joint venture.
Tianjin-based China Horse Club signed a memorandum of understanding on March 4 with the Singapore Turf Club, the island republic's only horse-racing club, to introduce the China Equine Culture Festival to Singapore in the second half of this year.
The festival will also promote Chinese culture and traditions through art, dance, music and
fashion
and culminate in a world-class thoroughbred race day, which will be held at the Singapore club's racecourse. The organizer claims this is the first thoroughbred race from the Chinese mainland ever held overseas.
The first China Equine Cultural Festival was held in Hohhot, capital of the Inner Mongolia autonomous region. The man behind that festival, Teo Ah Khing, a Malaysian architect who is also the chairman of the China Horse Club, claims that it has the highest bonus of any thoroughbred race on the Chinese mainland. The purse of a single race can be as high as 1 million yuan ($163,600).
"More investment and business opportunities will follow after the two sides get closer," says Teo. "Horse racing represents a new fashionable lifestyle for high-end consumers in China.
"China has thousands of years of horse breeding history, but it hasn't developed a mature modern thoroughbred industry. The more that China is involved in internationally influential races, the more this will create relevant jobs or business for the country, and this huge market will also give the Singaporean side great opportunities."
Statistics from the Singapore Tourism Board in February, indicated that about 15.5 million tourists from the Chinese mainland visited Singapore in 2013, spending 2.38 billion Singaporean dollars ($1.89 billion) in the first three quarters of that year, making China the No 1 overseas consumer in Singapore, surpassing Indonesia.