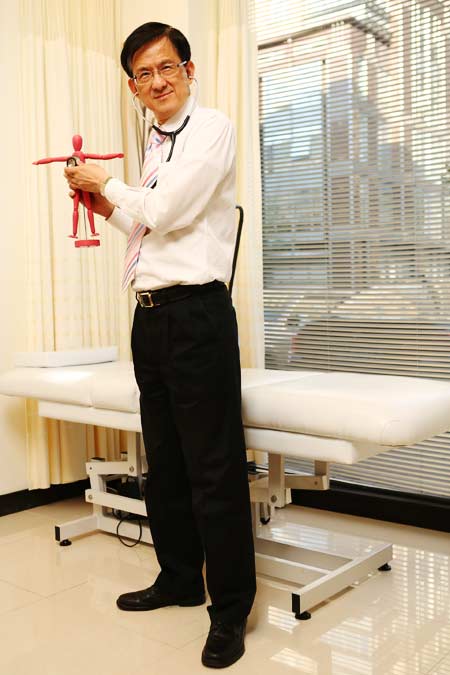 Shia thinks the style of family doctors in the United Kingdom suits China,too. [Photo provided to China Daily]
Back then, hospitals were already working in much the same way as they are today. "Register, go to a test, get the results and go to a specialist who doesn't know you, meet for a few minutes, and line up every step of the way."
He returned to Beijing to study acupuncture in 1989 and has managed to return nearly every year since becoming a general practitioner in 1991. "I have always kept an eye on China," Shia says. "And I slowly became convinced that UK NHS style family doctors would work here."
In 2006, the announcement came that the Chinese national medical reform will promote community GPs, similar to Shia's idea. So he decided to try his luck in a country that he knew would be full of challenges - something he is always on the look out for.
"I was born interested in novelty and could never handle boredom, that's why I chose to be a GP in the first place, so that I could meet all kinds of people and treat all kinds of illnesses," Shia says. "And I feel I can build something here so I gave myself a two-year tryout."
He chose to settle in Beijing instead of Guangdong province near his hometown, or Shanghai, where his ancestral home is.
"I chose Beijing for a reason," says Shia, who can speak both Cantonese and Mandarin. "It's closest to the policy-making, so it's the place most likely to make a change."
For the first few years, Shia worked to gain firsthand experience. "I can't let others say: 'You're an English man, you don't know what China is like.'"
He volunteered to work at Haiyuncang community health service center in Dongcheng district in 2009.
He became familiar with the colorful neighbors and patients that ranged from bird-walkers to erudite professionals, who dropped by the center not only for medical visits but for a chat. He treated all kinds of ailments, from physical to psychological, and built very strong bonds with his patients.
So strong that the bond was almost dangerous once - when one of his patients had a midnight anoxia (oxygen depletion) emergency, she didn't call the 120 emergency medical care number. She called Shia.