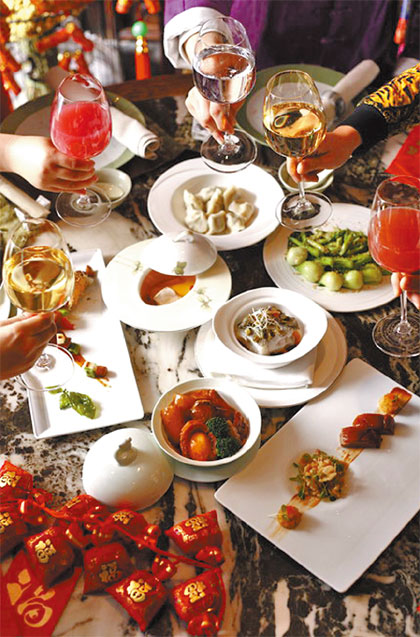 Huang Ting Cantonese restaurant creates a special eight-course menu for customers based on all-time family favorites during the Spring Festival. Photos provided to China Daily
Family favorites
Executive Chef Eric Wong with Huang Ting Cantonese restaurant at the Peninsula Beijing creates a special eight-course menu for customers based on all-time family favorites during the Spring Festival from Jan 30-Feb 5. With a beautiful and elegant traditional Chinese decor, the restaurant's private rooms have TV sets so you can watch CCTV's New Year's Eve gala show, if reserved when booking your table. Huang Ting is also one of the best places to have decent Cantonese dim sum in Beijing.
A Spring Festival dinner is priced at 368 yuan ($61) per head, or 525 yuan per head with unlimited soft drinks and red wine.
B2, the Peninsula Beijing, 8 Jinyu Hutong, Wangfujing Dajie (Street), Dongcheng district, Beijing. 010-6510-6707.
A taste of Shanghai in Beijing
Shanghai Classical Hotel's Beijing restaurant has all its private rooms fully booked for Spring Festival Eve. But people can still reserve seats at the public hall. The eatery has prepared two sets of half-processed dishes to take away for Spring Festival Eve, which requires only simple heating to be ready at home.
There are two sets of dishes, one priced at 980 yuan ($162) and another at 1,680 yuan. For both sets of dishes, there are eight cold dishes, eight hot dishes and two desserts. Some of the cold dishes are sweet-and-sour pork ribs, Shanghai-style smoked fish, five-spice beef, and oil-braised bamboo sprouts.
The eight hot dishes include braised prawn, steamed whole duck, kungpao diced chicken and Ningbo-style yellow croaker. The difference between the 980 yuan set and the 1,680 yuan set is that the more expensive one has braised sea cucumber with abalone sauce, while the cheaper one has fried beef with oyster oil.
18/F Zhongshang Dasha, 5 Sanlihe Donglu (East Road), Xicheng district, Beijing. 010-6858-7777.