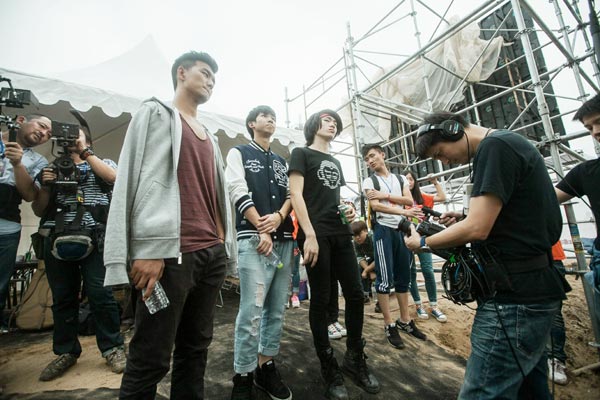 Fan Lixin works on his latest documentary about Super Boy, Hunan Satellite TV's singing talent show, to reflect the changes in China's reality-show business and society. Photos Provided to China Daily
Award-winning director Fan Lixin's documentaries trace the changes in Chinese society. Xu Lin finds out his motivations and dreams.
For documentary director Fan Lixin, 36, it's not easy to break his own record and surpass his past glory. His masterpiece Last Train Home in 2009 has garnered dozens of awards. For example, in 2012, Fan became the first Chinese to win the News and Documentary Emmy Awards, for both Best Feature Documentary and Outstanding Business and Economic Reporting - Long Form.
In September, The New York Times named him as one of the 20 Filmmakers to Watch, among those who were under the age of 40.
"I feel a bit ashamed (about the nomination) that after all these years, it's my only representative work remembered by others. I'm embarrassed that I don't have many works.
"If there is still no new production, I don't feel I deserve these honors," he says. He used to be a cameraman in Wuhan TV station and China Central Television.
A diehard movie fan since he was a child, Fan fell in love with documentaries at first sight when he accidentally read a summary about a national documentary conference in 1998.
"Every person can only live once. But if you observe others through camera lens, you will learn much. It's like I could live many lives. It's terrific," he says.
His directorial work Last Train Home focuses on the theme of chunyun - a period of travel rush around Spring Festival or Chinese New Year. It recorded the bittersweet annual journey of a migrant worker family in Guangzhou, from the city to their rural hometown for a family reunion.
Numerous migrant workers join the so-called largest human migration every year. It's so difficult to get a ticket home that they often have to wait in line at midnight or buy one at a high price from scalpers.
"When I was with the family, I gradually opened my heart to them and they to me. How trust is slowly established feels good. That's the magic of documentary," he says.
Topics related to migrant workers and rural areas are close to his heart.
But his latest work has nothing to do with that. It is the documentary film related to Super Boy - Hunan Satellite TV's singing talent show, which will premiere in March. The show has been criticized for the handsome boys' ordinary singing, and most audience members are females born in the 1990s.