Mountain patrolmen keep record from a distance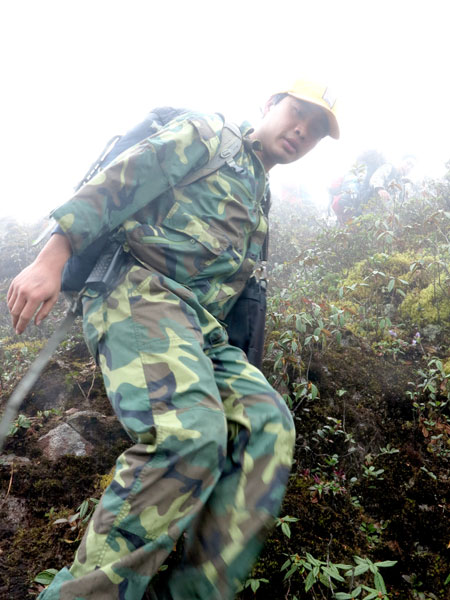 Li Wei's regular patrol is in the Ailao Mountains in Xinping county, Yunnan province. Chen Liang / China Daily
Trekking 30 kilometers in the Ailao Mountains of Xinping county, Yunnan province, over four days recently proved to be quite a challenge for many of the 30 participants who were new to the area.
But to the oldest patrolman with the Ailao Mountains National Nature Reserve's Xinping Bureau, it is just a day's work.
"With a bag and a bottle of water, I can easily cover the route in a day," says 59-year-old Wang Jiahe.
The farmer of the Lahu ethnic group from Bangmai village, Shuikou township of the county, was a good hunter long before he joined the Xinping bureau in 1988 as a temporary worker.
In 1982, he was confronted by a 150-kilogram black bear in the forest near his village. He managed to chase away the monster. A long scar from the lower eyelid of his right eye to his right cheek is a testimony of his bravery.
Working with the reserve as a patrolman, he has turned from a hunter into a protector. Every month, he spends 15 days patrolling different monitoring routes in the reserve to prevent poaching and illegal logging.
"It takes me three or four days to patrol some longer routes," Wang says. "Usually I would go with the other two patrolmen as a team, and bring along two dogs."
In the late 1980s, 17 patrolmen like himself worked it the reserve but the number has increased to 50. His wage has increased from 80 yuan ($13) a month in the 1980s to 900 yuan now.
Related:
Although few participants of the recent trek on the Ailao Mountains (Ailaoshan) managed to hear the western black-crested gibbons' duets, no one seemed to regret taking part. More...