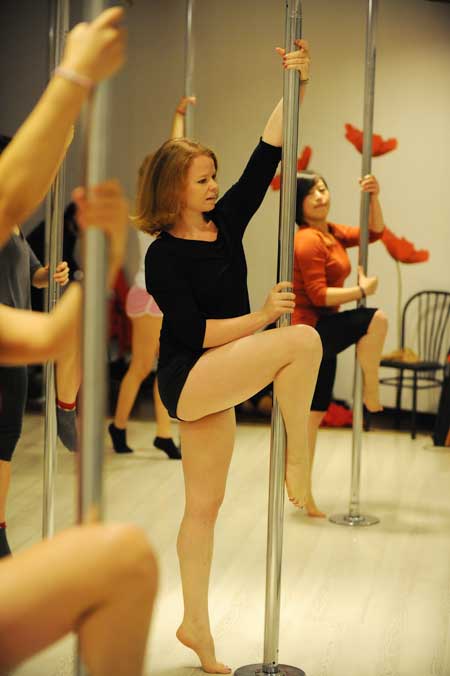 Photo Provided to China Daily
Her experience as a teacher and dancer has dashed the stereotypical view she had of Chinese women - "small, quiet, polite and conservative". Instead, she has found many of them to be "open and confident and eager to try". She has also made a lot of good friends.
After taking up pole dancing, one of her friends quit her job to travel and see the world - then returned, got married and had a baby.
"She did the things she wanted and lived the life she liked, but she is still independent," Brownie says. "Watching someone like her made me think that there are all different types of women in China. They are not always what they seem."
And wrong preconceptions work both ways.
"Many conversations I have with Chinese are with taxi drivers. When I get into a taxi, their first question is 'Where are you from?' and I say Nanfei (Chinese pinyin for South Africa), and they say, 'No, you are white'."
Brownie was born and grew up in Johannesburg. Her grandfather, who worked for British Rail, moved to South Africa from Britain around the middle of the last century.
"South Africa is a rainbow country and with people from different cultures and origins," she says. "In South Africa, people do not think of themselves as colors; they think of themselves as who they are, what they do."
Back around the pole, public views on the fitness and dance form may be changing, but Brownie is still surprised she has never had a male student.
"Maybe that's because Shanghai boys are shyer than girls," she teases. "They should try. I think they will become amazingly strong and sexy."