GEOJE, South Korea - Sim Jae-Duk, a South Korean shipyard worker, arrived in Front Royal, Virginia, one evening in 2006, sleepy after his first trip to the United States. Two days later, he set off on the Massanutten Mountain Trails 100-Mile Run (161 kilometers) and won it, setting a record of 17 hours, 40 minutes, 45 seconds, which has yet to be broken.
The next day, he caught a flight home.
"I don't like missing work because of my running," said Mr. Sim, 44, who works at Daewoo Shipbuilding and Marine Engineering on this island off the southern port of Busan.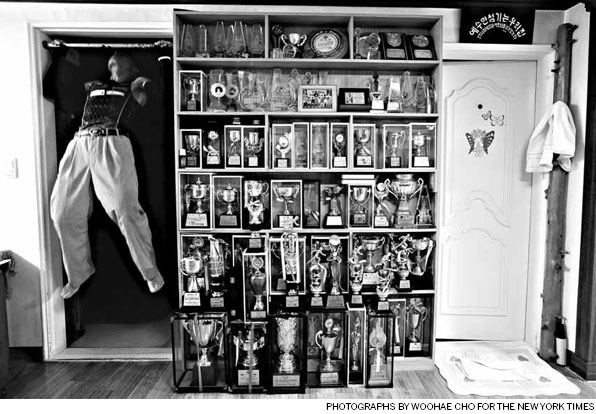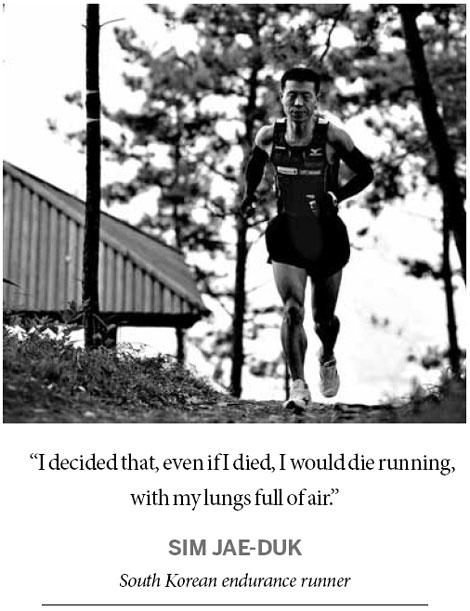 Massanutten race officials and runners recall him as a "total unknown" who spoke no English except "Water, water!" and "Thank you!" But Mr. Sim has become something of a legend among South Korea's marathoners, whose population has exploded in the past decade. He has been nicknamed the Korean Forrest Gump, after the movie character who runs across America.
Mr. Sim got his start running after six years of nine-hour workdays inside the ships, breathing chemicals and dust through a face mask. His respiratory system was so weak that in 1993, doctors recommended surgery to help him breathe. "Because of breathing difficulties, I always kept my mouth open, looking like an idiot," he said. He also lost most of his sense of smell. (On race days, he asks fellow runners to smell his lunch box to check if any food has gone bad.)
But Mr. Sim refused an operation. "Instead of surgery, I decided to run," he said. "I decided that, even if I died, I would die running, with my lungs full of air." His lung capacity now registers as normal, he said.
Despite still working five or six days a week at the shipyard he runs three marathons a month; in spring and fall, as many as seven. In all, Mr. Sim has run 210 amateur marathons since 1995, finishing all but three of them in under three hours.
With his personal record of 2:29:11, he cannot compete with professionals. But Mr. Sim's 90 victories are widely considered South Korea's amateur best.
He sometimes runs a marathon on Saturday and again on Sunday, and has won six such back-to-back marathons. He excels in so-called ultrarunning endurance races, typically double the length or several times longer than the 26.2-mile (42-kilometer) marathon and often conducted on mountain trails. He has run more than 30 such races and won 10 of them. "I am happier running than walking," he said.
Now, his golden business card identifies him as "golden legs" and "iron worker." Among his shipyard colleagues, his nickname is "the iron man."
When Mr. Sim ran his first marathon in 1995, it was the country's first open for amateurs. It took him 14 years to complete 100 "sub-three-hour" marathons, a first for a South Korean. He needed only four more years to run his next 100. By then there were more than 120 marathon competitions a year in South Korea, in addition to hundreds of half-marathons and shorter races. The spread of urban health clubs helped spur the running trend.
Corporate sponsors provide Mr. Sim with shoes and other running gear and supplements. He has appeared in their magazine advertisements and carries their logos on his running shirt.
He follows a spartan routine. Six days a week, he starts his day at 5 a.m. with an apple and 50 chin-ups. He runs 19 to 24 kilometers on a treadmill or on the road. Some days after work he runs mountain trails that overlook Geoje, the shipbuilding center. Running leaves his feet perpetually bruised, and he has lost hundreds of toenails. His wife complains that he often misses Sunday church services because of marathons.
Young-bo, his 15-year-old son, said he felt proud when his friends marveled at the trophies in the living room, but he wished his father would slow down a bit.
Mr. Sim has no such plans.
"I never finished first in anything until I started running," he said. "Only death will make me stop running."
The New York Times