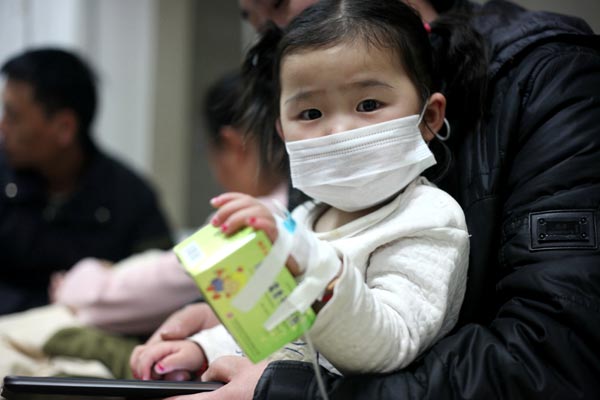 Young patients and their parents have to deal with long hours of waiting and a noisy and crowded environment on their hospital visits. [Photo by Wang Jing / China Daily]
With a shortage of pediatricians and inadequate medical facilities, bringing children to hospital can cause a lot of stress to parents. Some experts have suggested a change in parents' attitude and adoption of an alternative medical model. Liu Zhihua reports.
Serving about 1.3 billion people, China's healthcare system is perhaps the world's busiest and most pressured.
For patients, that means a painful process of accessing public hospitals and doctors. For those with sick children, the situation is worse because of inadequate medical facilities and manpower for pediatric care.
There is a shortage of at least 200,000 pediatricians in China currently, according to K. K. Cheng, a professor with University of Birmingham, who specializes in epidemiology and the development of primary care in China.
Yang Dan, a Chongqing resident and mother to a 3-year-old boy says she detests taking her child to the hospital.
The air circulation is poor. The area is noisy. It is so overcrowded that parents have to hold their children in their arms for intravenous infusion procedures. There have been cases of parents losing their children in the disorganized environment.
Yet sending their children to small hospitals is out of the question, because they cannot provide quality healthcare, Yang believes. She says once her son was misdiagnosed even in the largest hospital in Ya'an, a medium-size city in Sichuan province.
With the disparity in healthcare quality between rural and urban regions, between a top-level hospital and a less-privileged one, most Chinese parents share the belief that small hospitals are incompetent.
In 2012, Capital Institute of Pediatrics, a top children's specialist hospital in Beijing, received 2.04 million people who sought outpatient treatments, or three times its capacity, according to Wang Tianyou, the deputy president.
The condition is worse in regions with fewer hospitals.