Bone health awareness survey begins in Beijing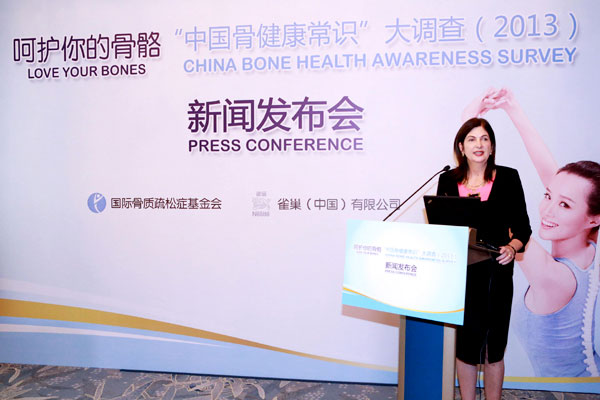 Judy Stenmark, IOF Chief Operating Officer,gives a talk during the press conference. [Photo provided to chinadaily.com.cn]
A web survey on China's public awareness about bone health was launched in Beijing on October 26.
To understand more about Chinese people's awareness of bone health, Swiss-based food giant Nestle and the International Osteoporosis Foundation (IOF) launched the survey.
Bone health is more than an issue reserved for the elderly. Normally, women reach their peak bone density between the ages of 25 to 30, and then bone density starts to decline as premenopause approaches. However, bone health is very much underestimated among young people in China.
"As the level of awareness on bone health is very low in China, we need to indentify the misunderstandings, offer appropriate bone health education and help make consumers more aware of what can be done to prevent the disease," said Alessandre Keller, vice-president of Dairy Business Unit of Nestle China's Food & Beverage Division.
The survey begins by introducing basic bone health knowledge and asking questions about how osteoporosis risks differ with age to see if there is a correlation between osteoporosis risk and bone health knowledge.
The survey will be carried out on QQ.com's health site and will last for a month. The results will be analyzed by IOF musculoskeletal health experts and published in a "China Bone Health Awareness" report in December.
Osteoporosis is a growing problem in emerging and developed countries. Recent statistics released by the IOF showed that osteoporosis affects about one in three women over the age of 50, with over 200 million women affected worldwide.
"Estrogen plays an important role in bone metabolism," said Judy Stenmark, IOF Chief Operating Officer. "As women's estrogen decreases, bone loss increases. Therefore, women are more likely to suffer from bone loss than men. That's why women should pay more attention to their calcium intake."