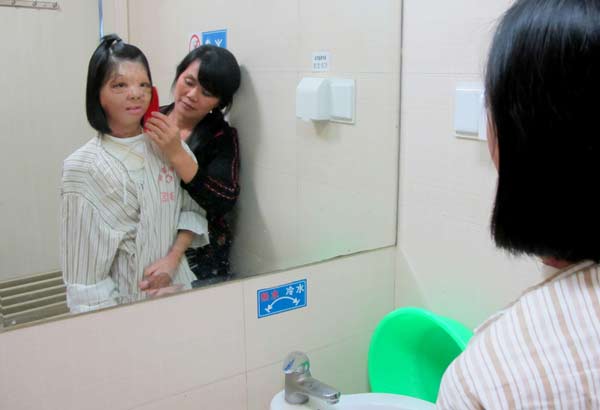 After the surgery, Xu Jianmei, accompanied by her mother Ke Haiying, finally dares to look at a mirror and smiles for the first time in 12 years. Sun Li / China Daily
A new surgical technique has given a badly burned young Chinese woman a new lease on life - with a transplant from her own body. Sun Li and Hu Meidong report in Fuzhou.
The face transplant between Nicolas Cage and John Travolta in the 1997 action thriller Face/Off still impresses today's viewers. But a recent real-life surgery that allowed the patient to have a new face grown on another part of her own body seems more likely to wow the public.
Xu Jianmei, a 17-year-old burn victim from Fujian province, has received a face transplant that was grown on an area between her shoulder and chest in Fuzhou, the provincial capital.
Dr Jiang Chenghong, a surgeon with the Fujian Medical University Union Hospital's orthopedics department, one of the chief doctors for Xu, says the first time he saw the girl, he realized ordinary plastic surgery could not help her.
Xu was hideously disfigured in a blaze 12 years ago, but she missed the optimal treatment time as her family could not afford it.
When Xu came to the hospital last August, the ridged scars on her face were deep enough to affect her eating and facial expressions, Jiang recalls. He regarded a face transplant as the only option for Xu.
The surgery was inspired by similar operations performed by doctors at the Shanghai Ninth People's Hospital affiliated with the Shanghai Jiao Tong University School of Medicine, Jiang says.
Last year, the Shanghai hospital announced its breakthrough using people's own skin to grow a new face for seriously disfigured patients, but no photos, papers and other forms of documentation have been shown yet, Jiang says.
After studying the technology in the Shanghai hospital, Jiang proposed the idea of growing a new face on Xu's own body. It initially aroused some debate.
Related:
Surgery brings back her smile