Not talking trash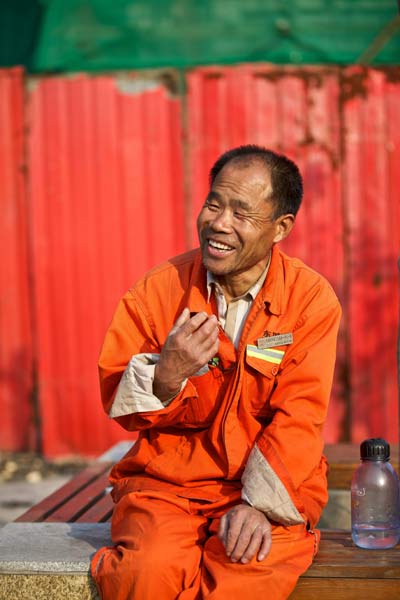 Li Jing'ang, 56, a retired grassroot office worker in Zaozhuang, Shandong province, came to Beijing in September and worked as a trash collector. Zhou Gangfeng / for China Daily
A garbage collector with a flair for English savors his online celebrity in Beijing and Hangzhou, Zhang Yue reports.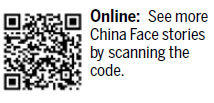 Kuang Zhiqi, a Beijing resident living near Nanluoguxiang hutong, met Li Jing'ang, a trash collector, amid a small crowd on a street in Beijing in early September. Li was talking to a young woman from Belgium in English. Kuang saw "a little, very plain-looking man in bright orange uniform on the street, with a large garbage truck behind him." He found the scene to be a bit funny, and thought, "Is this man a fraud or something?" It was so surprising to see a street cleaner speaking such good English.
Nanluoguxiang is a transformed hutong street that attracts many foreigners.
One month later, the trash man soared as an online celebrity as a video of him talking to foreigners in fluent English, and eagerly teaching pedestrians oral English, became an online hit in China's popular social media platforms, especially Sina Weibo.
That was just one among Li's many friendly, vigorous conversations that he started with people around him since he left his home in suburban Zaozhuang, Shandong province, for Beijing on Sept 3.
He describes his visit to Beijing as "travel to the capital city and to meet more people, especially foreign people because Beijing is an international city."
This was not his first visit to Beijing. Li recalls that during his days being a teacher, he was invited to a student's wedding in Beijing 10 years ago.
Before working as a trash collector in Beijing, Li, who graduated as an English major in 1981, had been working as an English teacher in his hometown Zaozhuang in Shangdong province for more than 10 years before he became a grassroots official in 1993. Even then, in his spare time, Li still had a private class at home, teaching about 20 students English with his wife teaching mathematics. The classes took place after day school and during weekends. In his class, Li insists on speaking English.
Li attributes his passion for English to his college teacher, "so great" that he fell in love with the language.
In 2003, when his son was in high school, Li bought a desktop computer for his son so the boy could broaden his knowledge through the Internet.
And for the elder Li, the Internet quickly became a vital tool for his English lessons.
"I love watching CCTV News, BBC and CNN," he says. "My favorite programs on CCTV are Dialogue and Culture Express. The anchors all speak very good English. I like Yang Rui most. He looked very calm and objective on the program. I presume he must be a very kind person."
Kuang, the man in his late 40s who met Li the second day he arrived in Beijing, says he appreciates Li's persistence very much.
For more China Face, here