Poor kids born with cleft lip and palate in China are getting a new chance for a happy life, thanks to a charity launched by a Chinese-American executive, Liu Zhihua reports.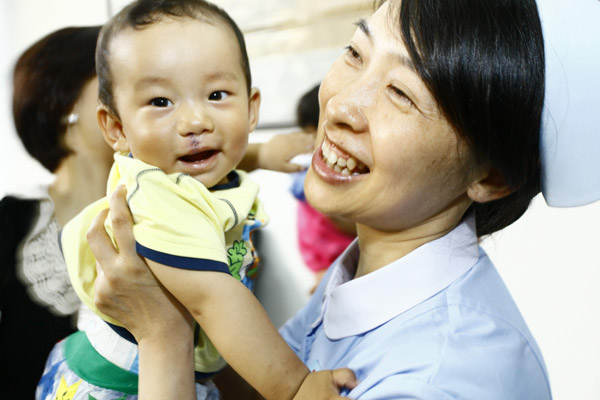 Happy smiles are back on the faces of these children who are beneficiaries of Smile Train, a charity pledging to repair cleft lip and palate for poor children in developing countries.
American businessman Charles Wang probably never imagined that his good will would have the power to change the destiny of hundreds of thousands of families in China.
But it happened.
Smile Train, a charity initiated and co-founded by Wang, the tech entrepreneur who owns the New York Islanders hockey team, helps to repair cleft lips and palates for poor children in developing countries.
Since it came into China in 1999, the charity has provided about 300,000 free surgeries to Chinese children from poverty-stricken families, through partnership with 397 local hospitals.
Across the world, it has provided free surgeries to nearly 1 million children.
Cleft lip and palate is a congenital condition that usually develops early in a pregnancy, as a fissure in the upper lip and mouth. The disfigurement often means children suffer from bad nutrition, since eating is difficult, and they are often shunned by and separated from others.
A simple operation can easily repair the deformity. But each surgery costs about 7,000 yuan ($1,150), an impossible sum for poor families.
"We know the problem, we have a cure for it, and yet we still have children that suffer from it," says Wang, one of the driving forces behind Smile Train.
"We don't want to see any child born with a cleft that goes untreated in the world."
For Tibetan Dorje, there is no way to express his gratitude to Smile Train and the West China Hospital of Stomatology in Chengdu, Sichuan province.
When his son was born with a cleft lip, it was local religious belief that it was retribution for sins the son had committed during a previous existence. By tradition, therefore, the family was doomed to endure the tragedy without complaint.