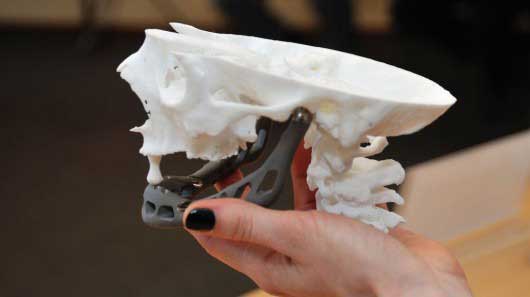 In 2002 CT and MRI data was used to 3-D print anatomical models of conjoined twins from Egypt in the United States, to plan for the separation surgery. The surgery succeeded in 2003, and the twins lived six years.
In 2011, researchers in Belgium and the Netherlands created and implanted an entire 3-D printed lower jaw (pictured above) for an 83-year-old woman. It was the world's first complete 3-D printed implant.
In 2012, specialists in the US created an airway device with a 3-D laser printer with approval from the US Food and Drug Administration, and saved a baby boy, whose birth defect had caused his throat's airway to collapse frequently.
In February 2013, scientists at Cornell University announced it had used 3-D printing to create an artificial ear for treating ear deformity.
In March, US doctors used 3-D printed artificial skull bones, and replaced 75 percent of a patients' skullcap that had been severely damaged, with approval from the FDA.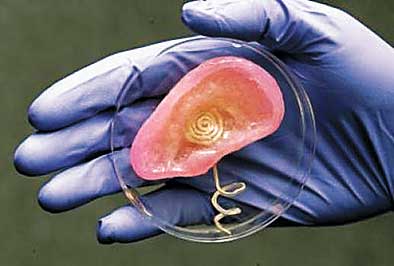 In April, scientists in the US managed to create mini versions of liver using a 3-D printer. They built up layers of liver cells, including cells from the lining of blood vessels to nourish the liver cells with nutrients and oxygen.