But because of the limits of traditional manufacturing methods, the shapes of orthopedic implants are usually geometric patterns, and as a result, they cannot attach to bones firmly without additional cement, screws and fixing plates.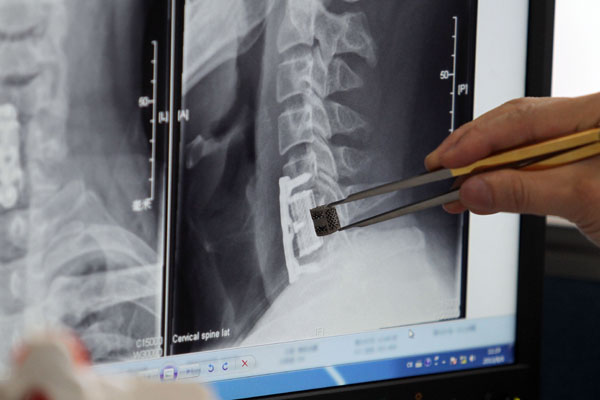 The 3-D printed artificial vertebral bodies are used in human bodies for the first time in the world.
The 3-D printing, instead, is able to print titanium powder into any shapes, as long as the computer that controls the printer has a digital model to follow.
"In another word, the 3-D printed orthopedic implants can match better with bones around them than traditional ones," Liu explains.
Besides, the tiny pores of the new implants, another feature of the 3-D device, enable bones to grow into the implants, Liu adds.
Liu's team launched the program in 2009. The hospital provided designing know-how, and the medical device company digitalized the design.
In mid-2010, they started trials on sheep, and in 2012, the team got permission from health authorities for human trials.
A woman surnamed Huang, became the first patient for the clinical trial.
The 54-year-old Beijing resident had suffered from severe dizziness and stiffness in limbs caused by cervical spondylosis, a degenerative condition of the cervical spine.
In September 2012, Huang heard about 3-D printing, and decided to use the new 3-D printed artificial vertebral bodies.
"I see it as a good opportunity to experience new technology," she says.
Within a few days after the surgery, Huang's symptoms disappeared. Her quarterly checks have shown positive recovery results.
Lyu Chao, 32, is the latest patient to benefit from the technology.
Before his surgery in July, his fingers, knees and lower legs often felt numb, and he could not walk or run fast.
Lyu is the 20th volunteer. The hospital plans to have at least 22 volunteers before they apply to health authorities for clinical use, according to Liu Zhongjun, director of the clinical trial program.
Liu says, "Producing medical devices through 3-D printing saves time and materials, and thus the cost will be lower than traditional methods."
It also has the potential to custom-print medical implants, and create living organs for transplants, Liu adds.
Qi Xiangdong, a senior cosmetic surgeon with General Hospital of Guangzhou Military Command, says Chinese hospitals have been trying to make use of 3-D printing since 2002.
Many have applied the technology to create lifelike organ models so that doctors can simulate surgery procedures and pre-plan for complicated surgeries to enhance safety and efficiency, says Qi, who's a member of the standing committee of Digital Medicine Association under the Chinese Medical Association.
In 2008, doctors in Qi's hospital successfully made a 3-D printing digital model for the upper part of a cervical vertebra, and hospitals in Shanghai have been using 3-D printing to help design cosmetic implants for several years, Qi says.
But to make models for surgery simulation and preparation is different from creating living tissues and organs.
"It is great that more Chinese hospitals manage to develop 3-D technology-related medical solutions for patients," Qi says. "With the technology, doctors can provide better treatment to patients."