The origin of the start of autumn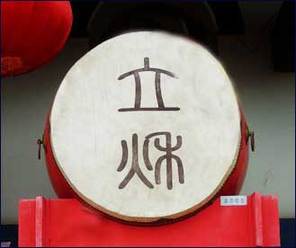 Every year the Start of Autumn falls on the 7th or 8th of August, when the sun reaches the longitude of 135°. Start of Autumn (Liqiu in Chinese) is one of the 24 solar terms which reflects the withdrawal of summer and the beginning of autumn.
According to historical records, the Start of Autumn not only foretells the end of the scorching summer, but also indicates the fruitful season is approaching, a time when early rice is gathered and late rice is transplanted. It is the time that autumn crops come into their crucial growing stage. In ancient China, people emphasized a lot on the Start of Autumn since they regarded it as the significant point when summer turned into autumn. As recorded, in the Song Dynasty (960-1279), potted Chinese phoenix trees would be moved into palace halls on the day of the Start of Autumn. At the exact time of the Start of Autumn, the official would shout "autumn is coming!" Then along with the falling of several phoenix tree leaves, autumn began.
In ancient times, the Start of Autumn was divided into three phases: "In the fist phase comes the cool wind". After the Start of Autumn, northern winds start to prevail in many places of China, bringing coolness to the land.
"In the second phase fall the white dews". During this period of time, it is still very hot in daytime, but pretty cool in the evening. The difference in temperature between the day and the night means dew will form on the surface of outdoor plants in the morning.