Making umbrellas manly is simple: Cast a chivalrous shadow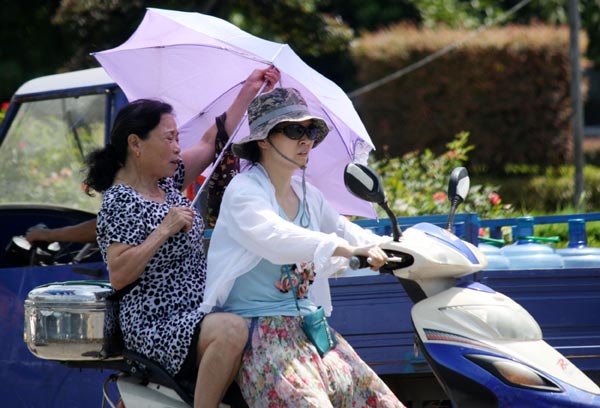 Residents of Loudi, Hunan province prepare for the blazing sun as they ride on a motorcycle on July 22, 2013. Photo by Zhang Yang for China Daily
Women's faces are often found in the shade cast by the umbrellas they carry on China's sunny days.
But it's rare to find Chinese men blocking UV rays with one.
I don't use parasols for staying dry during downpours and just deal with sweltering climates I encounter. But I recently considered joining the few male "sunbrella" bearers during my time in Fujian province's capital Fuzhou, known as "China's No 1 furnace".
Related: Hottest cities listed on new 'stove ranking'
The China Meteorological Administration's National Climate Center recently determined the city to be the country's hottest.
This summer's 17 days of temperatures higher than 35 C were officially classified as "abnormally hot" by the city's meteorological bureau.
The heat made me dizzy. And thirsty. It hurt. I drank more water but continuously felt ever-thirstier on the most broiling days.
While I wanted to use an umbrella to deflect the sun's blazing rays, I didn't because of my association between parasols and femininity. I'd never considered umbrellas' relationship with masculinity until about four years ago, when I met an American friend on a rainy day in Jiangsu province's capital, Nanjing.
I offered to walk the Pennsylvania State student to his apartment, since he didn't have an umbrella.
"That's cool man," he said, pulling his hood over his head and dashing into the rain. The guy wouldn't use the umbrella during a rainstorm, let alone on hot days.
I later came to learn many Chinese men also hold an "umbrellas-aren't-cool" outlook. And I've found many women feel the same about men carrying them.
When I proposed using one to shield my colleagues from the sunshine, women in my office responded with such words as "gosh" and "girlie". I was speechless.
A male colleague suggested I use a dark-colored parasol to appear at least somewhat more manly. He agreed men need them just as much as women - except for him. He drives a car. "Umbrellas are effective against Fuzhou's fierce sun for people without vehicles," he said.
I almost bought a relatively manly umbrella but noticed a middle-aged guy who was holding one getting strange looks from passers-by.
So, I tried a hat. But it drenched my scalp with sweat and messed up my hair.
Related: Feeling the heat