Summer heat brings surge in patients
Medical staff on the run all day to cope with season's added stress
Although it's still early morning on Feng Qiming's work day, the doctor has already been busy with emergency patients.
After finishing her daily morning rounds, Feng, who works in the Emergency Department of Shanghai No 6 People's Hospital, had to hurry to the emergency room to see other patients.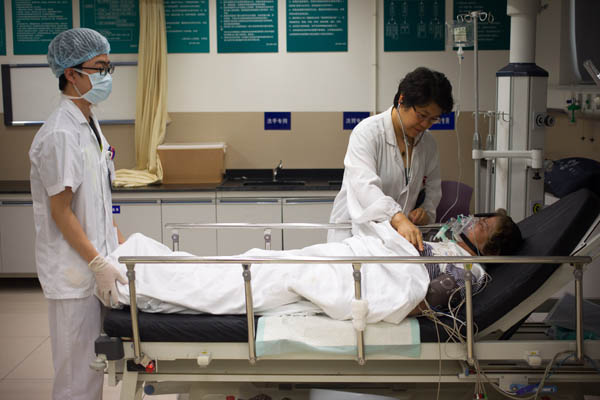 Shanghai No 6 People's Hospital has seen a spike in the number of patients suffering heat-related conditions. Gao Erqiang / China Daily
"Since summer, we have received many patients. The medical staff here have been on the run all day," she said.
"The number of patients has increased significantly in recent days, especially during the afternoon and night. Patients include both the elderly and young," Feng said. "Many elderly people have chronic diseases which easily worsen in the summer heat while young people have been staying in air conditioned rooms for a long time and consequently become sick."
Many patients also suffer from fever and digestive problems, Feng said.
The constant sirens of ambulances make the hospital's emergency building seem even more feverish and noisy.
"On receiving calls from the emergency center, medical staff should give immediate aid to the patients," Feng said. "Summer is usually our peak time and we have seen a surge of 20 percent more patients in recent days."
The emergency room has recently treated more than 1,100 patients a day. The first-aid room treats more than 60 patients each day, and at peak times, that number exceeds 100.
Shanghai's temperatures have reached 40 degrees, the local weather bureau reported. That summer heat has caused an unusual surge in the number of patients seen by the city's hospitals.
Statistics from the Shanghai Health and Family Planning Commission show the city's large general hospitals have been faced with a high influx of patients, averaging a total of 10,000 daily, an increase of 10 to 20 percent from last month. Among them, patient numbers at Huashan, Renji and Xinhua hospitals have reached as high as 14,000.
According to Shanghai's Huashan Hospital, the number of outpatients in recent days has increased 10 to 15 percent, or a growth of 1,000 to 1,500 patients each day on average. On July 1, the total number of inpatients, outpatients and visitors to emergency and first aid rooms approached 14,000.
When China Daily visited Huashan Hospital, the hospital's transfusion room was filled with patients. Most of them were elderly and suffering from chronic diseases such as heart disease and hypertension.
The city's pediatric hospitals have also seen a rise in patient numbers of 20 to 30 percent.
"It's summer vacation now, and many children are spending their time at home alone. Many children come here because of injuries such as falling down from a high place or bumping into a wall," said a nurse from the Shanghai Children's Hospital.
Officials from the city's medical emergency center said the city's ambulances have been dispatched about 1,100 times each day since late last month.
The city has more than 240 ambulances that rotate day and night shifts. During an ordinary day, these ambulances average more than 1,000 call-outs, according to the center.