Strongman contestants visit Shaolin Temple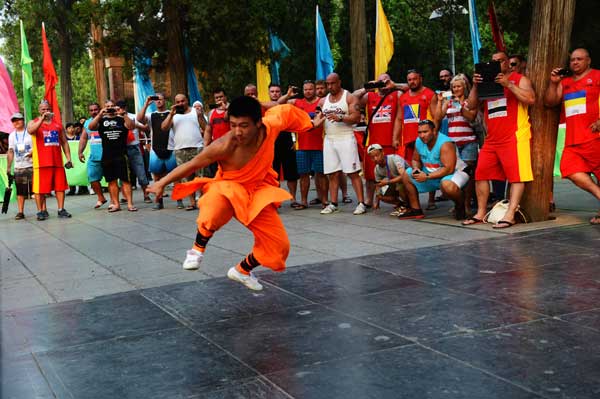 Shaolin monks perform kung fu for visiting competitors in the 2013 China World Strongman Championship on Sunday. Photo by Xiang Mingchao 
Competitors in the 2013 China World Strongman Championship visited the Shaolin Temple in Zhengzhou, Henan province, on Sunday afternoon to study Chinese martial arts with monks.
The contestants said it was a good opportunity to learn about Chinese martial arts and culture.
China's Shaolin Temple is the birthplace of kung fu and a central location of many martial arts films.
The monks from Shaolin Temple demonstrated their skills and then taught the contenders some movements.
One participant, Zydrunas Savickas from Lithuania, who is 1.91 meters tall and weighs 170 kg, said, "I first learned of the Shaolin Temple on television when I was 18 years old. This is the first time I have witnessed it. It is really very big."
He added, "It is really interesting to get close to Chinese kung fu, which is more powerful than I saw on TV or in film."
Rob Frampton, a 40-year-old contestant from England, told China Daily, "Both China and the UK have a very long history. I am very interested in Chinese culture." He added it was a good opportunity to experience and understand Chinese culture and kung fu.
He already knew the Shaolin Temple was the birthplace of kung fu and had some knowledge of Buddhism.
He enjoyed the visit very much, saying it was relaxing and helped him recover faster and prepare for the next day's matches.
The 2013 China World Strongman Championship began in Zhendong New District of Zhengzhou, the capital city of Henan province, on Friday.
Thirty-two contestants from 31 countries, including China, the United States, Russia, the United Kingdom, Germany, Finland, Lithuania, Ukraine and Morocco, will compete until Wednesday for the championship.
This contest is the largest such in terms of scale, and attracts the most contestants.
All contestants are winners of strongman contests in their home countries. They are also ranked in the top 100 World Hercules Union, including former champion Savickas.
One Chinese competitor, Zhang Jianjun from Hebei province, won China's strongman contest in 2012. Another competitor Zhou Rong is from Zhengzhou, Henan province.
The contest will include lifting dumbbells with one hand, pulling aircraft and holding huge stone balls, with some Chinese traditional elements thrown in.