Commuting movin' on up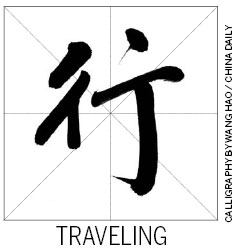 Chen Shaojie from Shanghai owns a 400,000-yuan ($65,240) BMW 320Li. But he chooses to take the subway to and fro from work, which takes up two hours of his time every day.
"My wife and I used to have the time for sports such as badminton or jogging before we had our son in 2011. But now, we have to make the best of our time. Daily commute on public transportations is the best exercise," says the 32-year-old.
Shanghai subway fares start from 2 yuan for distance below 6 km, increasing gradually by the distance.
Among the people China Daily interviewed, subway is their transportation of choice. They cite convenience, low cost, reliability and no traffic jam anxieties as the reasons.
And among the cities survey, Beijing has the cheapest public transportation.
The capital city also boasts one of the cheapest public transport fares in China. Subway costs only 2 yuan per ride, regardless of distance, while bus rides cost only 1 yuan cash or 0.40 yuan with the transport card.
With four new subway lines that began operation on Dec 30, 2012, Beijing now has the longest subway network in the country and one of the longest in the world, with a total track length of 442 km.
New York's more than 100-year-old subway system has always been the great equalizer among people of different socio-economic status.
Even today, billionaire mayor Michael Bloomberg rides the subway a few times a week to City Hall. It costs $2.50 per ride.
The financial capital is also a robustly well-connected city.
"I really appreciate the NYC transportation system. Even when things are not running properly or are delayed, there are so many options," says Joseph D'Alessio, a Premier Mortgage Consultant at Hong Kong and Shanghai Bank Corporation.
Although it is inexpensive to travel using public bus and subway, there is one common complaint overcrowded, as more people migrate from rural areas to these cities for better job opportunities.