Love lost down memory lane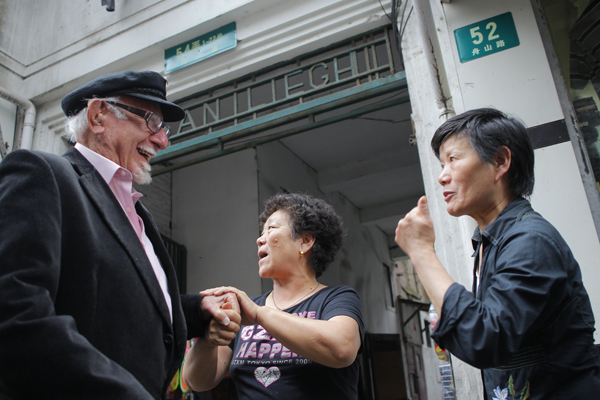 The old neighborhood in Hongkou, Shanghai, is the former home of Gary Matzdorff, one of about 25,000 Jewish refugees Shanghai received during World War II.
"I married my (first) wife here, in this building, and the celebration after the wedding was on the roof garden of the former Broadway theater," says Matzdorff when he walks on his return to the former Ohel Moshe Synagogue, Shanghai Jewish Refugees Museum.
"The marriage lasted 54 years, until she passed away and his four children in the United States knew all about his stories in Shanghai," says Nancy Matzdorff, Matzdorff's current wife.
During his stay in Shanghai from 1939 to 1948, Matzdorff also picked up the local language. "I learned Shanghai dialect because at that time I thought I'd stay here forever," says Matzdorff, who still keeps cards showing his Chinese name, given by a Chinese friend.
"I worked as the secretary to a coal dealer at that time," he says. "Sometimes when the boss went out I had nothing to do, so I picked up Chinese from Jimmy the doorman."
He kept practicing the language even after he went to the United States. "I'd speak Shanghai dialect whenever I bumped into Chinese," says Matzdorff. And that's how he met his "Chinese son", Chen Zhenhong.
"It was during my second trip back to Shanghai in 1982, I took my son with me to the old neighborhood in Hongkou and this young man came up and asked, 'Are you lost?' Of course I replied in Shanghai dialect, 'This was my home'," says Matzdorff.
Matzdorff shows his gratitude to the city as he became a godfather to this young student and helped him financially to study in the United States.
Now working as a programmer in the US, Chen says he was impressed by Matzdorff's gift for the local language. Matzdorff was, in turn, impressed by his knowledge of Jewish history.
When the 21-year-old college graduate asked if he could study abroad, Matzdorff took it seriously and got Chen a student visa in the US.
"He had a family meeting and wrote back to me, saying they're willing to help me financially. I think it's also a gesture to repay Shanghai, which saved his life. Though I personally didn't save his life - that was my parent's generation - I benefited from this."
Chen has named his son Matthew Gary Chen out of respect for Matzdorff, according to Jewish tradition.