New grape rewards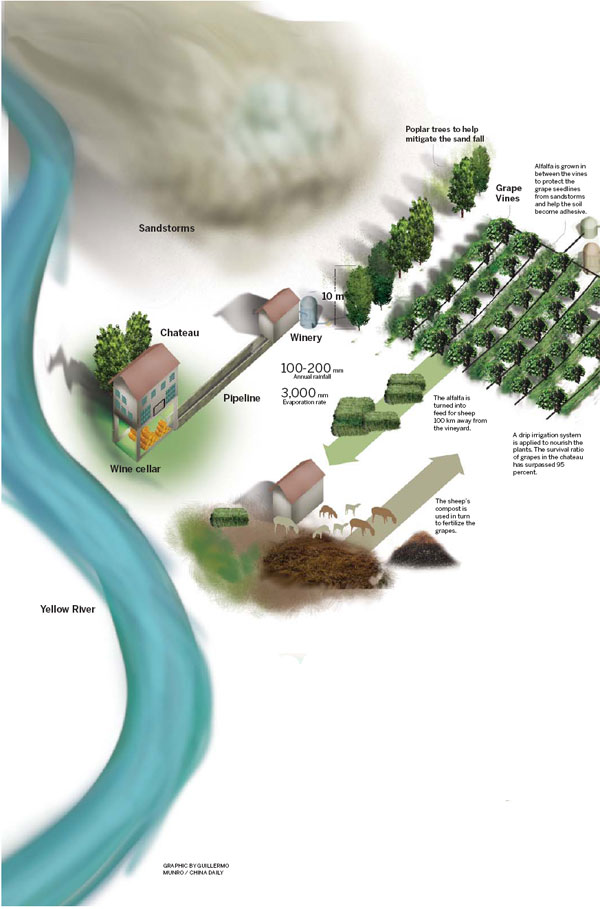 A vineyard is greening Inner Mongolia's desert while producing high-quality wines. Wang Kaihao and Yang Fang report in Wuhai, Inner Mongolia.
It looks like a mirage.
A five-story European-style chateau stands in the Ulan Buh Desert flanked by the Helan Mountains, which run south for 200 kilometers and are bisected by the Yellow River. The villa is surrounded by verdant landscapes.
This oasis is host to a 250-hectare vineyard surrounded by poplar thickets. The Chateau Hansen produces more than 10,000 tons of wine a year from what was barren sand less than a decade ago.
"We'd been trying various methods, such as planting trees and bushes, to combat desertification for years," the vineyard's deputy director Li Aixin says.
"But these government-led initiatives didn't embrace the market and didn't gain traction. We can't sacrifice our ecology for profits, but it's equally unwise to ignore economic opportunities and solely rely on selfless dedication."
Wuhai has an abundance of annual sunshine - up to 3,200 hours. Its latitude is similar to France's Bordeaux and California's Napa Valley. The vast temperature differences within the 24-hour cycle are conducive to the grapes' sugar accumulation.
EcoChina Series: