Smart money on horseplay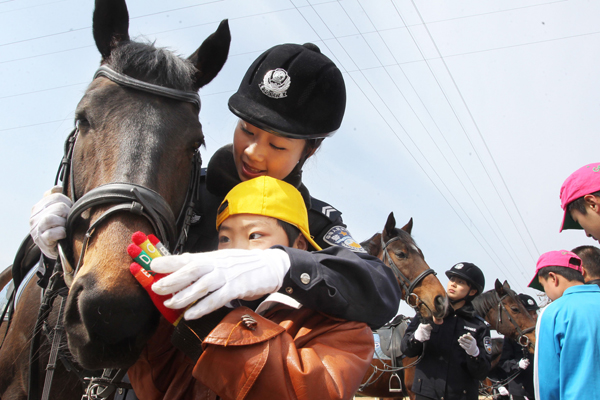 An autistic child pets a horse with the help of a policewoman at the Dalian police unit's base. Zeng Zhi / Xinhua
Public spending is valuable, but sometimes value cannot be measured in practicalities alone.
A debate about a Chinese city's mounted police unit may not have launched the sharpest inquiry into the use of public money, but it certainly started a positive cycle of citizen participation and government accountability.
What one person believes adds a sparkle to a cityscape, another may see as wasteful municipal spending.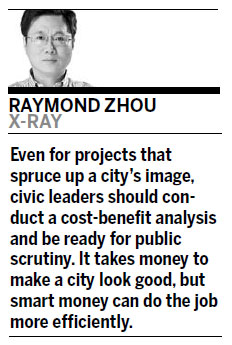 The mounted police unit in Dalian, Liaoning province, was the subject of a recent controversy when a retired policeman from the northeastern Chinese city openly questioned its practicality. In a posting on the city government's website on May 26, Zhao Ming raised the issue of the cost of having policewomen riding beautiful stallions across the city, calling it an "image project", a Chinese euphemism roughly equivalent to a white elephant.
The unit was set up in 1994, purportedly combining the functions of "security patrol, city management, sports showmanship and ceremonial performance". You don't need to be a rocket scientist to figure out that catching thieves or traffic violators, among other mundane policing tasks, are probably not high on the unit's priorities.
The sight of policewomen in colorful uniforms on horseback is simply too tempting for both locals and visitors to ignore. To borrow a Chinese cliche, it has been a "calling card" of Dalian.
Chinese cities, newly flush with tax revenues, are big on calling card-type projects. A decade ago I noticed many county towns had built a square, often with fountains, and a major thoroughfare leading to it. While the public square attracted crowds in the evening for dance sessions and other outdoor activities, the ornate lighting fixtures along the main street turned out to be largely ornamental. Local officials told me they rarely turned on the power-hungry lights unless some big shot showed up in town.
Administrators of Chinese municipalities are acutely aware of large-scale public projects in cities comparable to their size and status, and display the same keeping-up-with-the-Wangs mentality as individuals. If the capital of one province has a sports center, soon every other city of the same status will have one, often bigger and more lavish than the one before. The problem is, once a major sports event, for which the facilities are ostensibly meant, is finished, they remain unused and empty for much of the time. Just imagine what a waste that amounts to. Maintenance alone costs huge sums of money.
A new trend in public projects has emerged, such as mammoth riverside parks that are easily accessible to the public and free. These are far more pragmatic in terms of the many ordinary people who can take advantage of them. If you ask a resident of any city about one of these projects, the pride - or lack thereof - on his or her face will clearly tell you which projects the people have embraced and which raise questions of how they got the blueprints in the first place.
Judging from online feedback, many Dalian residents are proud of the mounted police unit with its striking horses and equally striking riders. They say it is a worthy addition to the beauty of their city. There are dissenting voices of course, but cosmetic or not, it is a public service, which cannot be said of a lot of other official spending, such as the much publicized dining and wining and all-expense-paid overseas trips disguised as study tours. The nub of the debate is whether the cost outweighs the benefit.
One day after retired policeman Zhao Ming asked for full information, the Dalian police obliged, revealing that the unit has 100 horses, all retired racehorses donated by the Hong Kong Jockey Club. The upkeep for each horse is 2,500 yuan ($407) a month. There are 65 policewomen in the unit, each paid no more than 3,800 yuan a month. In fact, the unit also has 23 motorcycles, four horse-carrying vehicles and five other vehicles of various purposes.
Since the birth of the unit, it has performed more than 1,000 ceremonial engagements and carried out more than 7,000 patrols. During my brief stay in the city a few years ago, I didn't see one, but I guess I would be delighted and would have snapped photos had I come across the sight.
For more X-Ray, click here