Hip is a 'smart' start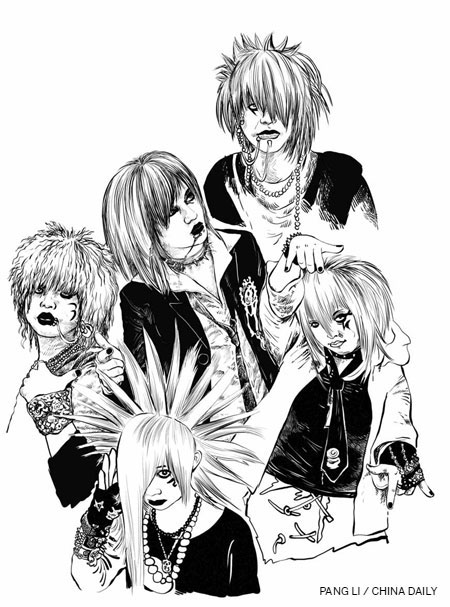 There's no one authority who can proclaim what's hip. Whatever is hip, the poor man's version veers towards the campy. Yet it carries the seeds of commercial success and hints at the iceberg hidden under the water.
When the uncool try too hard to play cool, the result can be hilarious. And when a significant demographic takes up this habit, it may give rise to a subculture that points to where the country is going in terms of trends and zeitgeist.
Shamate, a transliteration of "smart," is a self-appointed group of youngsters who started by imitating the hairdos and costumes of Japanese punk rock bands, or more generally, Japanese fashions as exhibited in its pop scene. They dye their hair bright colors, put on heavy makeup and dress in outrageous outfits, have a penchant for grimacing at computer cameras and sharing photos with strangers.
The "smart", to borrow its Chinese moniker, see themselves as members of a counterculture. But they are perceived simply as weirdoes.
In a recent article in the magazine South Reviews, social commentator Zhang Tianpan defines "smart" as those born in the 1990s and stuck in a limbo between rural, where they came from, and urban, where they strive to fit in. They tend to have graduated from high school or vocation school, with jobs as hairdressers, security guards, waiters or assembly line workers and rent basement apartments or share a unit in a smaller city or in far-flung outskirts of a metropolis.
Zhang's categorization essentially adds a social dimension to a fashion mishap. He also broadens the scope by including those who would rather be caught dead than look like a canvas drip-painted with neon tints by Jackson Pollock. They may be drawn to the same kind of books, music and television shows, but fashion-wise they refuse to call attention to themselves. And they may vehemently object to hair-salon employees as their collective avatar.
Now, let's take a step back and examine the general makeup of this demographic. If we include the 20-somethings, many of which are culturally and financially closer to their younger siblings, we have the so-called "post-80s" and "post-90s". China has roughly 200 million born in the 1980s and slightly more in the 1990s, making up the up-and-coming generation that largely corresponds to Generation Y in the US.
For more coverage by Raymond Zhou, click here