'Countryside judge' offers helping hand during legal disputes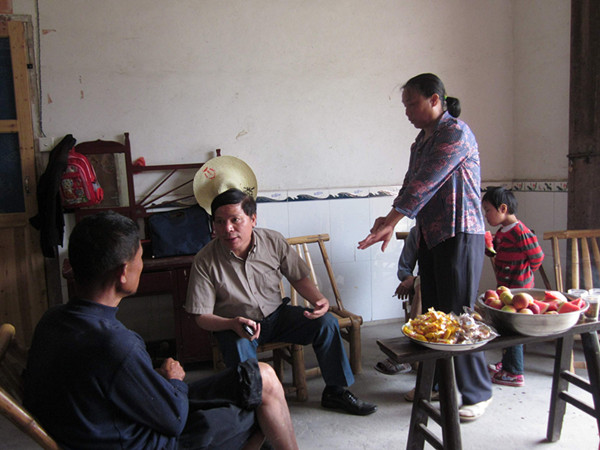 Yang Binsheng visits a family to mediate a case in Luxi county, Jiangxi province. Provided to China Daily
While most people cling to the dogma of "minding your own business", Yang Binsheng finds great satisfaction in solving the troubles of others.
Over the past 30 years, the 56-year-old judicial mediator in Xuanfeng town, Luxi county, Jiangxi province, has mediated about 3,700 civil dispute cases, settling 99 percent of them successfully, he says.
Yang records all the disputes for later reference, as some cases like divorce may last for years. Gradually the records have taken up dozens of notebooks.
"I'd compare recent cases with the records to learn from past experience," Yang explains.
Yang's reputation has accumulated like the pile of notebooks. The grizzled veteran with passionate and staunch eyes is well known as the "countryside judge" by locals.
However, Yang still remembers disappointing results, assaults and even threats of violence when he started as an assistant mediator after retiring from the army in 1983.
Yang admits resentment from the disputing sides is not rare in his work. "Many people have refused to do such a job, which is a hard and thankless one," he says.
However, Yang's fortitude gained from his army days pushed him on.
Besides seeking formal training, Yang bought himself lots of law-related books to teach himself, and he passed a series of judicial-qualification examinations.
His work includes disputes within families or neighborhood, and disputes between patients and hospitals, hirers and workers, drivers and traffic accident victims. An important part of his work is to explain the relevant laws to the rural residents.
Yang has worn out five bicycles and five motorcycles over the years, and he's always ready to give up his rest time.
Yang's family once depended on farming, but his wife has had to take on most of that work alone because Yang often had to leave for new cases. "My wife used to complain about it. But she is a good person after all and has given me great support," Yang says.
"It's a tough job, but also meaningful."
His mediation is focused on people's feelings and thoughts while being guided by law.
"Very often what we ordinary people seek is fairness," Yang repeats.

Yang has impressed his colleagues with his extraordinary work skills. Fang Shaolin is one of them.
Once Fang handled an economic dispute case, and he failed to put the two sides at peace. Instead, some careless words from him offended both sides, and everyone was angry.
Yang arrived in time to help. He was eagerly received, and restored calm.
"People have developed deep trust in his ability and morality," Fang says. "Everybody in our town knows to look for him whenever they're in trouble."