Safe harbor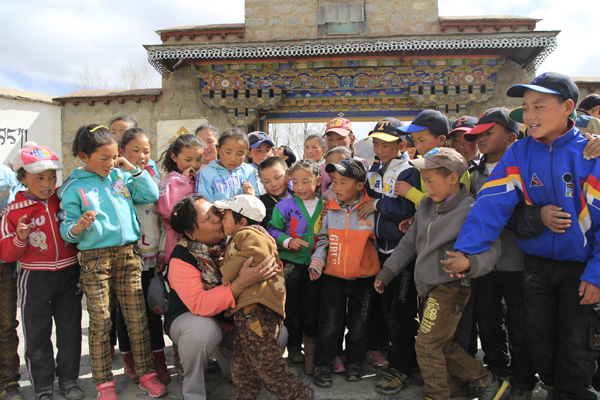 Gyalzur Tendol has been an orphan since she was very small. 
Raised in Europe, an ethnic Tibetan orphan returns to her roots to provide a home for young homeless, Palden Nyima reports in Lhasa.
Operating an orphanage is a duty or mission for some but, for Gyalzur Tendol, it is a matter of repaying love and pursuing true happiness. "Economic needs are not our main focus; instead, we focus on ensuring the children feel at home with parental love, trust, and unity", says the 60-year-old, who is an ethnic Tibetan. An orphan from an early age, Gyalzur Tendol was adopted and reared in Germany and Switzerland. She says that she had an ordinary childhood in the West.
"I finished my studies as a surgery assistant. My income allowed me to have a very comfortable life, but we felt empty inside our hearts, so we returned to Tibet to seek real happiness," says Gyalzur Tendol, who, along with her Swiss husband (also an ethnic Tibetan), returned to Tibet for a few visits before the 1990s.
It was during those visits, when she encountered orphans on the street, that Gyalzur Tendol found her calling.
Along with her husband and with support of visiting officials from the Tibet autonomous region to Switzerland, she founded the Gyalzur Tendol Orphanage in 1993 with seven children in Lhasa.
The first private orphanage run by a foreigner in Tibet, it has been home to 108 and orphans and one-parent families in the past two decades.
In 1994, a second building was added adjacent to the existing one. A third project was established in 1997 in Shangri-La county, Yunnan province.
To date, the population in her three orphanages has grown to some 300. The youngest orphan is only 2 years old; the oldest is already 32.
Forty-four children from the orphanage have found jobs.