Peruvian leader dedicates new study center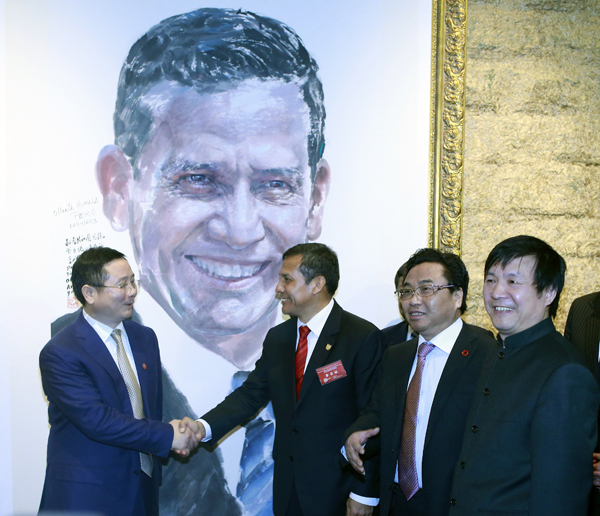 Peru's President Ollanta Humala (center) is greeted by officials of University of Hebei in Shijiazhuang. Feng Yongbin / China Daily
Peru's President Ollanta Humala wrapped up his state visit to China on Monday by joining a business meeting with Shanghai's leading entrepreneurs in Beijing.
After spending the weekend at the Boao Forum for Asia in Sanya, Humala spent a whirlwind day in the capital that included a reception at Beijing's Bridge Art Center to formally establish a Peruvian Studies Center at the University of Hebei in Shijiazhuang.
China is "an inexhaustible market" that has become the biggest buyer of Peruvian products, a leading investor and trade partner for several Latin American countries, Humala told Latin American media.
Counselor Mikael Broman of the Swedish embassy attended last week's inauguration of the Beijing Alignment Academy. Founded by Swedish companies Car-O-Liner and Josam, the school will offer collision-repair training courses to technicians, insurance personnel, car manufacturers, technical instructors and schools within the automotive industry.
EU Ambassador Markus Ederer gave a lecture on "European History: How the Rule of Law has shaped the European Union" to more than 100 students and faculty members of the China-EU School of Law, at the China University of Political Science and Law on April 10.