Cosmic dream drama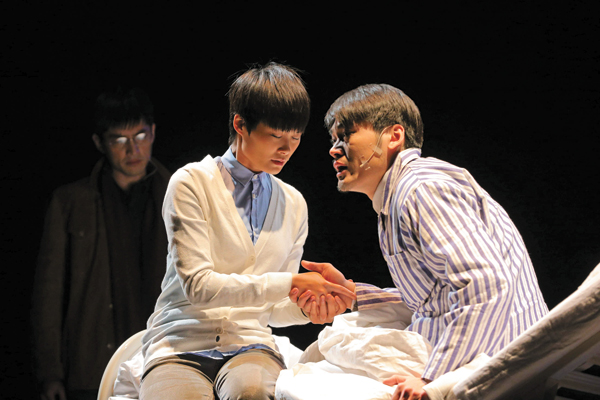 High-profile pop stars Li Yuchun (left) and Hu Ge give unexpectedly impressive performances that belie their inexperience in theater. Photos provided to China Daily
Noticeably absent from this equation are such melodramatic ploys as betrayal or reconciliation. Each character is essentially fighting a lifelong battle with himself or herself, trying to figure out one's own identity and, on top of that, one's past and future.
That, plus the unique seating arrangement, makes it easier for the audience to project themselves onto the rotating gallery of characters. For those sitting in the swiveling chairs in the "lotus pond" - the on-stage sunken area in the center - the proximity with actors, plus the ease with which the characters can be related to, facilitates an immersion, or "qi" in the Chinese scheme of things, something you can feel but is hard to describe. The opening scene of people walking in a circle, ritualistic as it is, induces an almost knee-jerk reaction because, as some reveal afterwards, they see their lives hurrying by, leaving little time for reflection.
Ultimately, it is an inner journey - a spiritual journey through time and conflicts - to reach the destination of a higher consciousness, a state of being at peace with both the outside world and with oneself.
Time is a concept ingeniously manipulated and masterfully presented in this play. The monotony of life is epitomized by the frying of eggs, each repetition with one more actress playing the role. But the most brilliant touch is the meeting of two actresses playing different phases of the same person. It is, literally, an out-of-body encounter.
Time may be cyclical, but the legacy of each generation exerts its impact on future generations. The final 10 minutes feature the deaths of all three main characters, each one bequeathing something positive or negative. Again, this can be called qi or energy. Abstractions so esoteric gain an emotional heft through the sheer force of Lai's imagination and the actors' total trust in the master and their commitment to the project.
A Dream Like a Dream may be the most cosmic piece of theater in the Chinese-language canon. While all plot points are time and location specific, they can be substituted without losing relevance. Neither does it require familiarity with Taoism or Buddhism to get to the heart of the work. However, it may yield to varying interpretations. Where one sees life as it inevitably can be, another may resonate with the efforts to steadfastly swerve from the pattern of vicious cycles, or to take a load off the historical baggage, and rise above the banality of life as it seems so preordained.
Such richness is rare except in a work of great scope and depth and crafted by someone who has reached an artistic height that may baffle many an ordinary viewer. Future generations may have a field day dissecting the minutiae of this piece, but some of us can proudly say we were there and we saw how the master worked his miracle. Like the Elia Kazan-directed version of A Streetcar Named Desire or Maria Callas' Lisbon Traviata, this Dream is going to stay with us for a long, long time.