Sum of all fears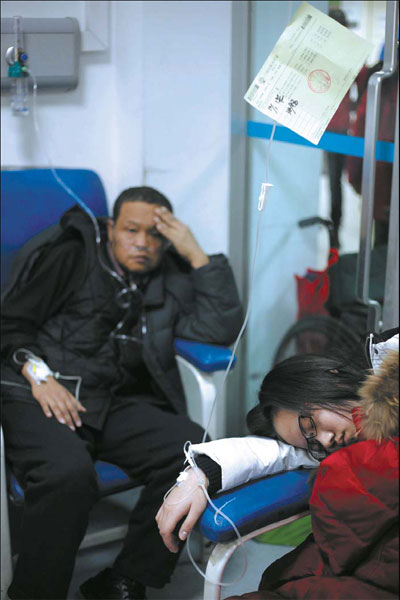 The cold and bad air quality sent an influx of patients into the China-Japan Friendship Hospital's emergency room. Wang Jing / China Daily
Flu, smog and sub-freezing temperatures have combined to create a health scare in many parts of China, especially in Beijing. The experts tell Liu Zhihua and Eric Jou that it's a bad year, but there's no epidemic.
A huge blanket of haze that mired Beijing, compounded by cold weather, suggested a perfect storm for a worst-ever flu season. On Saturday, a surge of patients hit the emergency room of China-Japan Friendship Hospital, coughing and wheezing with flu-like symptoms. Feng Kai, 23, felt sick in the morning and decided to visit the hospital for a checkup.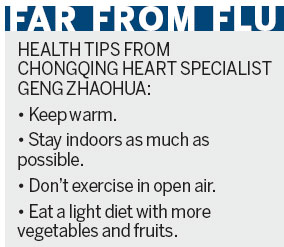 "I was swimming, and I may have caught a cold," he said. "I came in after I had a fever and now I'm stuck on this IV drip." It will be with him for three more days.
Lee Jian, 25, also received an IV in the arm. He said he was persuaded to brave the cold for a hospital visit by his girlfriend, after discovering that he had a 39.5 C fever.
China-Japan's respiratory specialist Zhang Shu'nan says that he's seen a patient increase of about 20-30 percent in the last couple of days. Zhang says that some patients are coming in complaining of complications worsened by the cold weather and the smog.
Xu Qian, director of China-Japan Friendship Hospital's Infectious Disease ward, also says that there has been a marked increase in the number of daily outpatients, who are coming in with such symptoms as fever, headache, sore throat and runny nose that may be attributed to the flu.
"On a normal to slow day, we would have about 100 people show up to be tested. Even in peak flu season we won't see too many people. This year we're seeing a marked increase of about 200 to 300 patients a day," says Xu.
Xu says that this growth in patients is perfectly normal because the nature of the flu is cyclical. She says that one year the flu can be particularly bad and another it could be good, all depending on the strain of the virus that hits.
Of course the weather and environmental issues all affect the spread of the influenza virus. Beijing Hospital's doctor Ke Huixing says that there are slight correlations between the spread of the flu and environmental factors.
"The cold air and smog might not affect the spread of the flu directly, but the depressing environment can have effects on the human body and psyche," says Ke.
"Depressing environments can lead to a lowering of the body's immune system making it more susceptible to illnesses. Small particles in air pollution can also help spread the virus," Ke adds.
Saturday saw the density of PM2.5 - air particles smaller than 2.5 microns and able to enter the lungs - climb higher than 900 micrograms per cubic meter in several districts in the capital, according to the Beijing Municipal Environmental Monitoring Center.