Cities: Can China's west build China's best?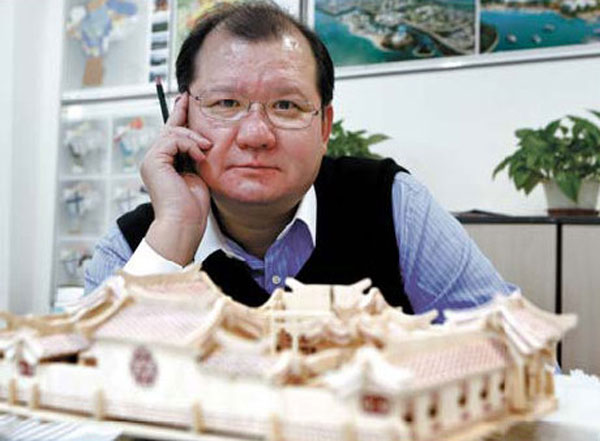 Chinese-American architect James Jao has been a witness and active player in the country's rapid urbanization over the past decade. [Photo by Kuang Linhua / China Daily]
While western China is infamously underdeveloped, its cities might soon offer higher standards of living than prosperous coastal megalopolises in the east, Chinese-American architect James Jao says.
China's urbanization has accounted for about half of the world's over the past 14 years, accelerating the global rate to unprecedented velocity, he writes in his newest book, Straight Talk About Chinese Urbanization. The epicenter of this construction - so far - has been near the coast.
China pushed global urbanization over the tipping point, so that most humans have lived in cities since 2008, the United Nations reports. China crossed that threshold in 2012.
It developed an average of about 2,000 sq km annually during the period and will continue to grow, Jao says. But the intensity will geographically reverse as it does, Jao believes.
"The process is moving from the eastern coastal cities, transitioning in central China and arriving in the west," he explains.
That may mean rustic western regions will leapfrog prosperous eastern development, Jao says.
His company, J.A.O. Design International, plans swaths of many cities in the western region, such as in Gansu province's Dunhuang and the Inner Mongolia autonomous region's capital Hohhot. "This is a chance to avoid the mistakes made while developing Beijing, Shanghai and Guangzhou," Jao says.
"Being years behind in development may actually be a blessing in disguise. China can build new modern cities in one step."
Jao says the capital - with its traffic congestion, pedestrian obstacles and air pollution - shows the consequences of failing to plan long-term from the onset.
"Beijing is a city where people come to get things done - not to enjoy life," Jao says.
Few planners could have foreseen the city's population would swell sevenfold from the start of the opening-up and reform in 1979. But the transport system, for instance, can't be revamped without reconfiguring much of the city. Consequently, the average Beijing commute is 43.6 minutes - but it's not uncommon to spend hours in traffic, he says.
Jao suggests adding stops on every bus route and taking out walls.
"Beijing is so gated that sometimes you have to walk a long way around and out of the way to get from Point A to Point B," Jao says.
Western China's urbanization could jump over these pitfalls to offer better lives than those now enjoyed in the east, he believes.
And that process will transform not only the country but also the world.