Bulgarian shares the fruit of his labor with China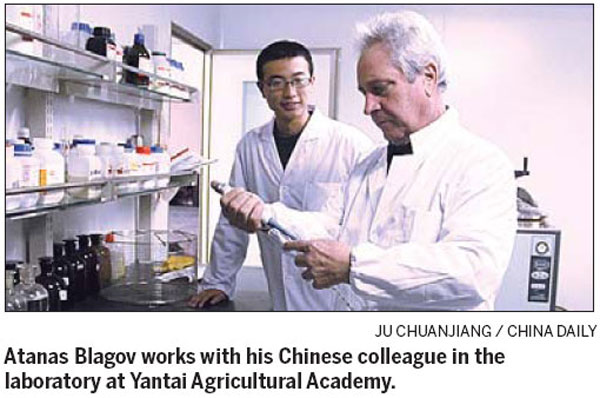 While he was preparing to rush home to Bulgaria for Christmas, Atanas Blagov had an unexpected and unforgettable experience.
In early December, the 66-year-old fruit cross breeding expert, who has more than eight new apple breeds to his credit back in Bulgaria, was among 20 foreign experts who were invited to offer suggestions to fuel the country's progress in an official meeting with Chinese top political leader Xi Jinping.
After his impressive talk at a pre-meeting with the State Administration of Foreign Experts Affairs, he was invited to deliver a speech during the meeting with Xi at the Great Hall of the People.
But that's no challenge for him. Since 2001, the botanist has been working for months each year with the fruit research institute in Yantai, China's best-known apple producing locality.
Barely speaking any Chinese initially, he now considers himself to be half a Yantai native: He loves local food and is also a qualified local poker player.
Blagov fondly recalls his first impression of China in 2001, when he came to attend a fruit expo in Yantai. He found Yantai to be an amiable city, which is also very clean. The climatic condition is also surprisingly similar to his home country, and is suitable for fruit production.