Help me out of the closet
While the mood was merry for the Spring Festival of 2011, Liu Yan (not his real name) was speechless. Tears rolled down his mother's cheeks, and his father beside her was totally silent, his face twisted with anger. Liu had just told them he was gay. The 30-year-old banker with a foreign corporation in Beijing has lived with his boyfriend for seven years, but was loathe to tell his parents about it.
Born and bred in Wuhu, Anhui province, Liu followed the path set out for him by his parents. He passed his exams and made it to Renmin University, before settling down in the capital.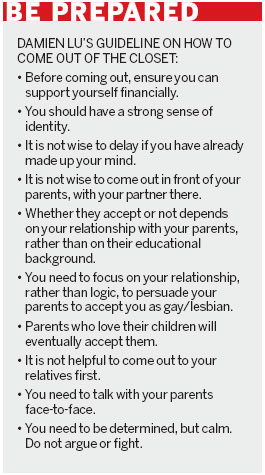 He says he first realized he was gay when young and a classmate crush in his sophomore year confirmed this.
He called his mother and tried to tell her, but she just papered over the cracks and told him it was a "silly adolescent mistake" that he should never talk about again.
Liu met his partner online in 2005 and they have done all the usual things that couples do, like moving in together, exchanging rings and telling their friends.
Meanwhile, Liu's parents in Wuhu called almost every day asking when he would be bringing home a girlfriend.
"I call it 'peer pressure'. My parents' friends are all becoming grandparents, but I told them I was still single. They became very worried about me and my marriage prospects," he says.
Determined to be together with his partner, Liu decided to reveal his secret at Spring Festival, the previous year.
He asked his partner to stay away for a few days and invited his parents to be with him in Beijing. They happily agreed, thinking they would at last be meeting the girl in their son's life.
Their dream was dashed when Liu confirmed he would not be getting married - because he is gay.
Liu's mother believes homosexuality is "abnormal" and insisted he should at least try to find a woman to settle down with, while his father scolded him for being disrespectful to the family.
But what really killed Liu was overhearing his mother tell his father: "If you think it's a disgrace (that our child is homosexual) we can divorce, and you can marry another woman."
Liu, so determined at first, started to despair. He even considered finding a woman to marry. Liu describes it now as "an unsuccessful conversation", but according to Damien Lu, coming out is about the telling - and in that sense Liu was successful, as long as he persists.
Lu, who heads Beijing-based NGO Aibai Culture and Education Center, has been helping China's homosexuals with their problems for the past 13 years. He has heard all sorts of coming-out stories.
Related:
At work, the corporate culture is what matters