It's all in the guts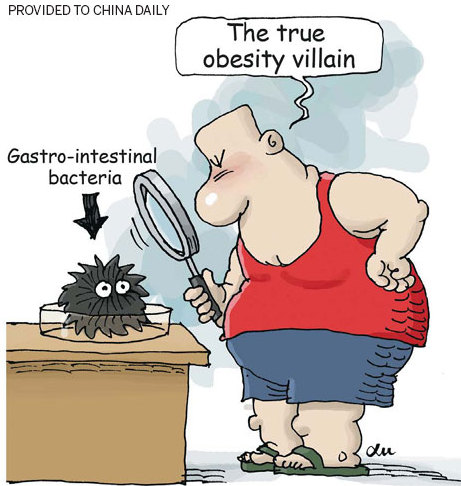 For years we have been dieting rigorously after the year-end binges, afraid that when summer comes, the bulges we have accumulated will betray our gluttony. Now scientists say, it's a little bug that causes obesity. Wang Hongyi reports in Shanghai.
As the holiday season with its bountiful feasting arrives, millions of festive revelers are keeping an eye on their figures. But scientists have found that weight gain is not about too much Christmas turkey, hot chocolates or holiday lethargy, but some bacteria in your guts.
Chinese scientists recently discovered a type of intestinal bacteria that may be to blame for obesity.
A research team led by Zhao Liping, professor of microbiology and associate dean at the School of Life Sciences and Biotechnology at Shanghai Jiao Tong University, has identified a precise link between a particular kind of bacteria and unusual weight gain.
"The endotoxin released by the bacterium can activate a gene that helps generate fat. And it also deactivates a gene that consumes fat," Zhao says.
Scientists have long believed that microscopic organisms in the gut, microbiota, may play a crucial role in weight gain, but they had never been able to prove it.
In 2004, microbiologist Jeffrey Gordon from the Washington University School of Medicine in St. Louis, Missouri and his colleagues discovered a general link between obesity and gut microbiota in mice.
While a link was believed to exist, proving it was another matter.
"The list of diseases that they may play a role in is just growing and growing," says Lita Proctor, director of the US National Institutes of Health's Human Microbiome Pro-ject in Bethesda, Maryland. "But the problem is that we're only able to look at associations and aren't yet able to conduct cause-and-effect studies."
Zhao's research team isolated the pathogen, or infectious agent, from the gut of an obese human and induced obesity and insulin resistance in germ-free mice. In the clinical study, researchers found an excessive growth of endotoxin-producing bacteria, accounting for 35 percent of the gut bacteria, in an obese patient whose initial weight was 175 kg.
Based on this information, researchers intervened by feeding the patient a specialized nutritional formula to decrease the bacteria in his intestines to non-detectable amounts.
After 23 weeks, the patient lost 51.4 kg, with his Type-2 diabetes, fatty liver disease, hyperglycemia and hypertension having all but disappeared.