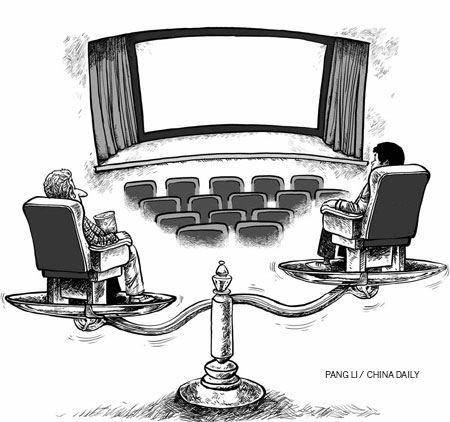 Audiences of different cultures tend to search for different things in the same movie, especially one rich with innuendos. One may not agree with the other perspective, but it is enriching to simply know there is an alternative view.
Related: Muddy waters
It is extremely rare for a Hollywood movie to rake in higher box-office grosses in China than in its domestic market. As a matter of fact, it has happened only twice, both this year. The first is the 3D version of Titanic, and the most recent one, which is still running in theaters but looks unlikely to change the final equation, is Life of Pi.
In its first three weeks of release, Ang Lee's lonely tale of a teenager and a tiger on the high seas registered 440 million yuan ($70 million) in the Chinese mainland - in contrast to $60.9 million on its home turf. In a related but less tangible sign, the movie has garnered much better reviews in China than in the US.
If you think Chinese filmgoers flock to the film because of Ang Lee's name, you are at most half right. It is rather how the ethnic Chinese told the story than his ethnicity that has made the movie into a cultural phenomenon.
Granted, the Taiwan-born director has a high reputation in the Chinese mainland. But he is more respected than loved. Lust, Caution, his biggest movie before Life of Pi, whipped up a frenzy largely because of its strong sexual content, albeit heavily trimmed for its mainland release.
Lee is unlike Jiang Wen or Feng Xiaogang, who command a strong following here; nor does he resemble Zhang Yimou or Chen Kaige, whose
art
-to-commerce-to-hybrid trajectory has raised many an eyebrow. Lee has been very consistent except for the two flops, Hulk (2003) and Taking Woodstock (2009).
What makes Ang Lee special is his uncanny ability to fuse East and West and, in the process, some surprising discoveries about the inherent discrepancies that divide us - not only perceptions of each other, but how we look at ourselves.
To put it another way, the film master of bridging cultural divide is enlightening even when he succeeds or fails when he does not expect to, thus revealing the frustrations of simultaneously appealing to audiences across the Pacific Ocean.
For more coverage by Raymond Zhou, click here