Life of Pi offers food for thought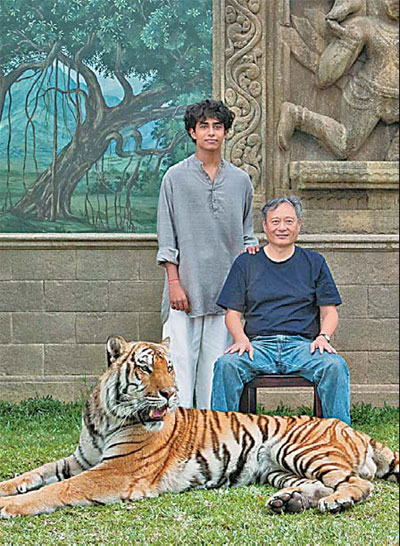 Director Ang Lee with two lead characters in Life of Pi - Indian actor Suraj Sharma and a Bengal tiger. Provided to China Daily
Ang Lee's Life of Pi has made everyone a film critic in China.
The film has lit the fuse of explosive commentary with both professional critics and ordinary viewers carrying out extensive online discussions - especially on Sina Weibo, one of China's major Twitter-like micro blog services.
Related: Tigers' survival under threat
The film has grossed 270 million yuan ($43.4 million) since its Nov 22 China premiere. Word-of-mouth buoyed the second week's box office sales by an additional 70 million yuan.
There have been more than 4 million Weibo posts about the film, dissecting every minutia.
A day after the premiere, netizens dug up such details as the name of the tiger - Richard Parker - comes from a shipwreck victim in fictional and true accounts, including an actual 17-year-old cabin boy who was cannibalized by his companions in a life raft.
Netizens also interpreted the carnivorous island. Some contend it represents the Hindu God Vishnu. Others argue it symbolizes Pi's mother. And many say it was just a fantastical landscape.
One Weibo user even tracked down a photo of Lee as a young boy and paired it with a photo of Suraj Sharma, the actor whom Li chose from among more than 3,000 boys to play Pi. The physical resemblance led her to conclude that Lee relates to Pi, who survives much desperation.
It has been a long time since a film has generated so much discussion among Chinese viewers. The last was Jiang Wen's 2010 Let the Bullets Fly, which triggered debates about revolution and modern Chinese history.